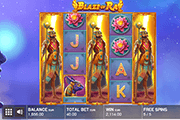 Blaze of Ra Online Slot: Free-Spins Grid Constantly Places 3 Full-Size Wild Reels
Blaze of Ra online slot is a Push Gaming icon-matching game played on a grid partitioned into 4 rows and 5 columns of Egyptian-inspired symbols. Configured with 40 paylines in which identical symbols may align, a stack of wild cards may land to help players complete the pay patterns on those lines.
The Ra image, represented by the icon of an Egyptian Deity with a Falcon Headdress, represents the Wild Symbol. Already impressive by its 4-tier high structure, the Ra Wild comes with a Nudge Feature. The latter allows the Stacked Wilds to come into full view, as well as linger in the next spins. The Ra Wild is more magnificent in the free round. Three (3) full-reel blazing images of the Egyptian Sun God are constantly on display as persisting contents of the Bonus Game Grid.
Blaze of Ra Online Slot: Stacked Wild Symbols and Special Wild Features
A stack of 4 Ra Wilds in a single column may appear in one or more reels. When aligned with matched icons within a payline, a completed grouping garners the corresponding payout of the non-Wild winning symbol. Yet when 3, 4, or 5 Ra Wilds land as winning contents of a payline, the longest occurring combo awards a cash prize equal to 100x, 500x, or 2000x the Line Bet.
Chances of striking payline wins via Wild representation or Wild combination are boosted by two (2) Special Features: The Nudging Wild and the Persisting Wild Reels
Nudging Wilds This feature is a base game exclusive. It sets off whenever a paid spin returns with two Ra Wilds on the topmost positions of any reel. That is regardless of whether the Ra images landing on the reel are partial or full displays of a Ra Wild Reel.
Once the Nudge Feature is active, the Wilds in that column stay on, but drop into a lower position on each succeeding spin. Actually, the only actions that will happen in that reel during the next spins are the Nudges. The feature continues until all visible portions of the Stacked Wilds are no longer in view.
The non-Wild Reels on the other hand may launch in order to produce fresh arrays of icons that may benefit from the remaining visible Wilds.
Persisting Wild Reels are Free Games features. Three full images of the Sun God replaces the 4-symbol Stacked Wilds during the bonus round. Even more awesome is that they will altogether take positions in Reels 1, 3 and 5 throughout the free games.
Blaze of Ra Online Slot: Free Games
Pay attention when Scarab icons land on reels. Three or more that occur simultaneously after a paid spin, initialize the Free Game feature. More is better, because every Scarab icon in view reveals a numeral that serves as basis in determining the duration of the bonus game. The sum of the numbers revealed will then be the number of spins awarded as Free Games Bonus.
When appearing in the free round, every Scarab Bonus Symbol occurring as spin outcome brings an additional free-spin. Likewise the number of extra spins added depends on the numeral revealed by the bonus icon.
The Free Games then will run on a special game board. Ra Wild Reels are strategically housed in Reels 1, 3 and 5 from the very start; to stay there until the bonus round ends. Strategic, because any icon that lands on Reel 2 automatically completes a 3-symbol winning combination; longer even, if similar icons are in Reels 4 and/or 5.
Blaze of Ra : Hot Wild Features Boost Chances of Hitting Blazing Big Wins!
Blaze of Ra online slot is one game that makes striking bonus wins an easy feat. The Bonus Round, albeit brief, is sweet. The free-spins run on a grid that constantly displays full-reel Wilds on Reels 1, 3, and 5. Naturally, any icon that lands on Reel 2 can easily complete a 3-symbol winning arrangement. During paid spins, Stacked Wilds trigger a Nudge Feature that allows the symbols to stay in view during the next spins. This base game feature lasts until all components of the Stacked Wilds have been nudged out of the reel.