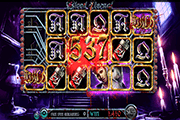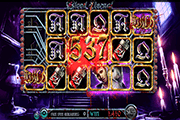 Blood Eternal Online Slot: Blood Spreads Wilds by Turning Regular Symbols into Wilds!
Blood Eternal is a 30-payline online slot released by Betsoft for the 2017 Halloween event. Built on a 3 x 6 grid, filled with elements depicting outcomes when Humans meet Vampires. Yet rather than abhor the blood-curdling scene that transpires, Blood Eternal players should watch the event closely . In this 3D video slot, such incidents activate the Free Games. Gruesome as it may seem, blood spattering throughout the reels turn regular icons into win-boosting Wilds.
Blood-thirsty Bats may appear as outcomes of a spin. If they come in droves, the greater the potential benefits. Three (3) up to 12 Bat images occurring as payline win bring coin rewards ranging from 20 to 10,000. Landing on more than six (6) Bat symbols in a single payline is made possible by a Double Bat tile that already counts as two contributing components.


Pay-Both-Ways Feature – Take note that this Betsoft 3D online slot evaluates groupings of identical images both ways. Whether coming from the leftmost or the rightmost reels, alike icons aligned in any payline can compose a winning combination. Anticipate the Castle icon, as this symbol has the highest rewards on a 3, 4, or 5-symbol combi. It awards coin credits of 15, 60, 200, or 500, respectively.
Blood Eternal Online Slot: Wild Symbol
The WILD appears as a straightforward Wild emblem. It can represent any icon including the special BAT images. A wild though cannot substitute for Vampire and Human icons. Those latter two (2) elements can activate the Blood Eternal Free-Spins Bonus Round.
When substituting for 2x Bat icons, Wild representation for that symbol counts as one Bat only.
Wild Symbols dole out the highest Paytable rewards when occurring as regular payline win. Three, four, five or six WILD emblems converging in proper paying positions, correspondingly award a coin-win of 20, 75, 200, or 750.
Blood Eternal Online Slot: Bonus Game Trigger Symbols
Images of Male and Female Vampires as well as non-Vampire Man or Woman can trigger the free games. The Male and Female Vampires take positions only in Reels 2 and/or 5. On the other hand, the non-Vampire Man and Woman icons emerge only in Reels 3 and 4.
When those reels return with a pair of Vampire and Non-Vampire Man and Woman, positioned right next to each other, the Blood Eternal Bonus Round activates. During a free bout, those images continue to appear as active elements of the bonus reels.
Blood Eternal Online Slot: Free-Spins Bonus Game
Vampire and Non-Vampire characters pairing off in adjacent reels, activate eight (8) Free-Spins. If during the round another winning pair occurs, an extra set of eight (8) bonus spins will extend the bonus round.
The Vampire + Non-Vampire symbols that triggered the feature will lock in place from beginning to end of the round. In the event a bonus spin produces another Vampire/Non-Vampire combo, those icons will likewise remain glued to their respective positions.
Moreover, each Vampire and Non-Vampire icon participating as trigger symbols can produce 1 up to 4 additional Wilds during each free turn. Blood will then bespatter the reels, subsequently turning symbols into Wilds. If more than one Vampire + Non-Vampire pair is in place, up to 8 Wild Symbols can come into view with every free spin.
Blood Eternal Online Slot: Double Bats Feature
Here, the Bat Symbol is special because they could bring on as many as 50,000 credits on a single payline win. A Double Bat icon, which already counts as two (2) elements in a single tile, boosts chances of landing 3 up to 12-of-a-kind win.
If by chance six (6) Double Bat icons form a line up in accordance with a pay diagram, such an event triggers the awarding of the 50,000-coin Jackpot.