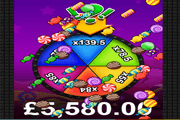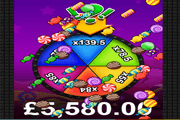 Bon Bon Bonanza Online Slot : Multipliers, Bonus Wheel, Pick Game and Other Bonus Features!
Bon Bon Bonanza by OpenBet is a 9-row x 9-reel online slot fashioned after the popular Candy Crush video game. Identical images need only to align horizontally or vertically in groups of 3 or more, anywhere across the game board. Regardless of the number of symbols constituting a combo, the game awards a single payout value on every win. However, landing four (4) or five (5) as a winning match, garners a Dynamite or Bomb Feature that will increase a win 5x or 10x, respectively.
Pay attention to the YOU'RE SUPER and Jackpot icons. Landing three (3) consecutive and horizontally aligned YOU'RE SUPER symbols at the center activates the Bonus Feature. Advancing to the Mega Feature stage activates either the Wheel of Fortune, the Pick a Prize Game, or the Pinata Feature. Now if a Bon Bon Bonanza player lands on three (3) consecutive Jackpot icons, aligned horizontally in the middle board, the Progressive Jackpot will be for the player's taking.


Earning additional rewards after a win-event is possible. All winning symbols disappear, creating spaces into which Bon Bons from above drop. Once the board is filled, the new arrangement could result to more matched combinations at no extra cost.
Bon Bon Bonanza Online Slot: Dynamite and Bomb Win-Multipliers
Landing on a 4 or 5-symbol match, garners the same rewards paid by the game for a 3-symbol combo. However, the longer arrangements give players extra chances of increasing the prize by way of a Dynamite or Bomb Multiplier.
The Dynamite appears when a winning combination comprises four (4) identical Bon Bons in a row. Virtually, it blows away an entire row, and strikes a win if two (2) identical icons coming from above, align with the Dynamite. The payout for the Dynamite Win will then be multiplied by a 5x factor.
The Bomb comes into play when a winning horizontal arrangement constitutes five (5) identical images. It works in the same way as the Dynamite, but pays 10x the payout if it aligns with two (2) identical candy images.
Bon Bon Bonanza Online Slot: Bonus and Mega Bonus Features
Once activated by three YOU'RE SUPER icons, a new set of 9×9 Bon Bon images will come into play. This feature allows players to move images in positions where they can strike a win. If a player so chooses, he or she may click on the Auto Move button to automate shifts in positions. Every win-event is important as it fills up the Mega Feature Trail.
Filling up the trail, advances the game to the Mega Feature Level. Any one of the following bonus games will then be activated to award a guaranteed cash prize:
Wheel of Fortune This is a Bonus Wheel containing six (6) Multipliers. The Multiplier on which the Wheel Pointer lands, determines the cash prize to be awarded as additional bonus reward.
Pick-a-Win also awards a guaranteed Cash Prize by selecting one of three (3) Goody Bags.
Pinata Monster – Hit the Pinata Monster until it explodes to reveal the Extra Bonus.