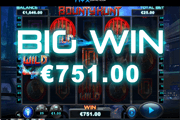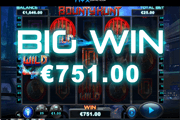 Bounty Hunt Video Slot – Spins Optimised by Crosshair Feature that Turns Symbols into Wilds and Extra Wilds!
Bounty Hunt is a Chance Interactive video slot in which players get to feel the excitement of landing on one or more Wild Symbols with every spin. A Crosshair overlay appearing after every spin takes aim at a random symbol in order to turn that symbol into a substituting Wild. Depending on the icon targeted by the Crosshair, Wild transformation may have an effect on other reel images appearing as outcomes of any spin.
In the event that a WANTED poster of a criminal is hit, be it that of the Big Boss, Dr. Fury, or Hank Blade, such an occurrence will trigger the Free-Spins Bonus Round. During the free games, hitting a Bonus Game Special Criminal Symbol will turn corresponding icons into Locked Jailed Criminal Wilds for the remainder of the round. If by chance a bonus spin Crosshair gets to convert all of them into Jailed Criminal Wilds, the outcome could be awesome as the bonus reels will be filled with Wild Symbols.
[/CBC]
Bounty Hunt Video Slot: Crosshair Wild Symbols
The Crosshair Feature arbitrarily generates one or more random Wild Symbols after each spin. All of the featured reel icons could turn into Wild Symbols, including the lesser-paying A, K, Q, J and 10.
The Bounty Hunter as Crosshair Target turns a symbol on a non-targeted reel into a Wild.
Criminal Icons as Crosshair Target, which may be the Big Boss, Dr. Fury or Hank Blade. The Crosshair simultaneously turns any of those images and all other similar criminal icons into Wilds.
Grenade Symbol as Crosshair Target – The Grenade icon and all other symbols positioned in the same reel, will become Wilds.
Pistol Symbol as Crosshair Target – The Pistol icon and a random symbol turn into Wilds.
A, K, Q, J or 10 Symbols as Crosshair Target – turns the targeted symbol into a Wild.
Wild Combination Payouts – Since Wild Symbols may take position in any row, reel, or payline, a group of 3, 4, or 5 wild cards forming a pay pattern creates winning combinations. Coin rewards of 50, 100, or 1000 will be awarded accordingly on the highest winning combination in each payline.
Bounty Hunt Video Slot: Bonus Game Wanted Symbol
Any Criminal Icon presented as a Wanted Poster is a Bonus Game Symbol. It emerges only in the center reel. If a Crosshair Overlay targets and then hits the Wanted Symbol, ten Free Games will be awarded.
Prior to the launch of the bonus round, a Criminal Icon, will be introduced as Special Crosshair Target of every bonus spin. If that symbol is hit after a bonus spin, then that particular icon and other like images will turn into Wilds. During the round, the Special Criminal Icons that turned into Jailed Criminal Wilds will remain locked in place up to the end of the bonus round.
Other Criminal Icons other than those designated by the Bonus Games as Special Crosshair Wild may also turn into Jailed Wild Symbols after a bonus spin. There is a likely chance therefore for a bonus spin outcome to have more than one Jailed Criminal Wilds.