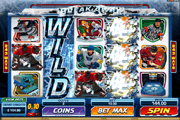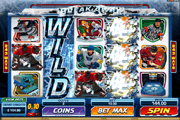 Break Away A Hockey-Themed Microgaming Slot with Rolling Reels Feature
Break Away, a five-reel video slot with an ice hockey theme, in which players could breakaway with the 243 ways-to-win pay patterns with the help of the Microgaming Rolling Reels. As reels automatically roll to form new combinations, multiple winning pay patterns could be achieved when Stacked Wilds and Smashing Wilds appear. Those features are significant especially in the Free Spin Games that award multipliers of up to 10x.
The game has great graphics, showing ice hockey players including the referee, launch into animated actions whenever their icons complete a ways-to-win combination.
Go on a Roll with the Break Away Rolling Reels
The Microgaming Rolling Reels mechanism occurs when a spin action returns with a winning pay pattern. The icons completing the pattern combination virtually disintegrates, causing the reels to roll down and possibly form new ways-to-win pattern/s. A single paid spin could result to multiple wins since the rolling reels continue with the disintegration and rolling actions for as long as winning pay patterns are achieved continuously.

Breakaway with the Break Away (BA) Logo Wild Symbols
Get into the reel spinning actions in the company of ice hockey players as the reels make use of ice hockey elements and players as symbols. In this game, the BA Logo is the Wild Symbol and it could appear singly or in two's or threes stacked atop each other in a single reel. Although the BA STACKED WILDS appear only in reels two (2), three (3) and four (4), they could appear simultaneously in one or more reels. Imagine the multiple combinations that could be achieved not only by the substitution actions of the BA STACKED WILDS but also by the continuing actions of the Rolling Reels mechanism.
One occurrence to watch out for is the appearance of virtual ice hockey players outside the reel-screen. Their intense gaming action will lead to a reel-smashing incident that will cause one of the reels to break into smithereens. Keep watching because a full WILD Signage replaces the shattered reel, increasing the likelihood of forming more pay patterns through the help of the newly installed full-reel SMASHING WILD. However, the Rolling Reels are off in a SMASHING WILD occurrence because wins are guaranteed to happen.
Win Big from the Break Away Free Spin Round
Getting three or more of the Puck Scatter symbol activates the Free Spin Round, to which 15, 20 and 25 bet-free spins are for a player's taking. The possibilities of boosting one's winnings to the hilt are great during the Free Spin games because, here, the Rolling Reels apply multipliers that gradually increase with each reel rolling action. Winning pay patterns could earn rewards paid in folds, from 1x on the initial win, to gradually increase to 2x, 3x, 4x, 5x and 10x during a continuous occurrence of rolling reels wins.