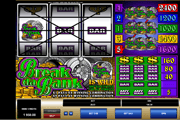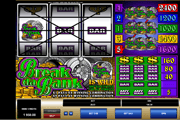 Break Da Bank A Classic BAR and Dollar 3-Reel Slot
Break da Bank is a classic Microgaming BAR and Dollar three-reel slot with five (5) payline selections. This slot game is widely played in Microgaming-supported online casinos, apparently because of the simplicity by how the game is played and the ease by which wins could be boosted by the WILD Multiplier symbols.
Break da Bank Game Play
This popular slot is a typical no-sweat entertainment since all that a player has to aim for is to land on "BAR," "BAR-BAR," "BAR-BAR-BAR," or any "BAR" combination and "$" symbol combination. The Paytable is located on the right side of the slot screen, which flashes every time a spin action returns with a winning payline combination.

The game pays only on "BAR" and "$" combinations appearing consecutively on a wagered payline, and must always start from the first reel going to the third.
Activating the Break da Bank Paylines
A payline is activated if a player placed a wager on the payline patterns, comprising three straightforward horizontal lines and two diagonal lines. The fifth payline, represented by a line traversing diagonally from the bottom of the first reel to the top of the third reel has the highest payout reward of 2,400 coins. The equivalent value of all paylines depends on the coin size selected as payline wager.
Clicking on the "Bet One" button enables a player to select the pattern, which he or she thinks is the likeliest to return with a "BAR" or "$" sign combination. Clicking on all five (5) paylines increases the possibility of winning from more than one icon combinations, especially if the spin returns with a Break da Bank WILD symbol.
Break the Bank with WILDs that Pay in Folds
The Break da Bank (BdB) Logo makes the game distinct from the traditional 3-reel slot machine game. In addition to the BdB WILD symbol's ability to replace a regular icon in order to form a winning combo, the BdB WILD has a Multiplier attribute.
A winning payline formed with the help of one (x1) BdB Logo has an equivalent payout of twice (2x) the number of coin rewards for a "BAR" or "$" symbol combination. Even greater still is when two or more BdB WILDs constitute a payline win, because the game rewards players fourfold or 4x the number of coin rewards for the combination created.
In addition, a player receives additional coin rewards for multiple BdB WILD symbols appearing on a wagered payline. However, combos formed by the BdB Logo do not have a multiplier value.
Break Da Bank is an urban hip hop based casino reel game in which you earn bucks with your on screen bling. The gems have up to nine ways to line up your pay offs. It's vibrant in both sound and color as you play and especially as you win. It's an entertaining game that will always make you feel like a winner. All pay outs are in coins. It comes with a few bonus games: Free spin, Gamble, Multiplier.