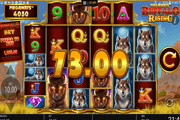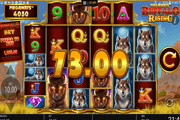 Buffalo Rising Megaways : Online Slot with Dynamic Reels that Yield as Many as 117,649 Win-Ways
Buffalo Rising Megaways is a Blueprint Gaming online slot built in a grid composed of 5 vertical reels and 1 horizontal reel. The 5 reels are dynamic as they produce varying numbers of elements on every spin. A reel may return after a spin with 2 or more symbols, accommodating as many as 7 icons. The constant change in number of displays, also result to changes in number of ways by which symbols may land as winning combos; allowing the grid to offer as many as 177, 649 Megaways to win.
Symbols emerge in different sizes as well, depending on the number of images displayed as reel content. Take note that a large-size icon still counts as one (1), since larger dimensions do not denote increases in number of units represented by the element.
The lone horizontal reel positioned at the top of Reels 2, 3, 4 and 5 steadily contributes 1 icon to each corresponding column. The Wild Symbol emerges only in this section; appearing with other elements that can form regular winning combinations. That being the case, Scatter Symbols do not take position in the horizontal reel. Wild Symbols give spin outcomes a boost thru its capability to represent any regular icon. Scatter icons on the other hand, can activate the Buffalo Rising Megaways Free Round. That is, if players land on at least 4 Scatter Symbols via a single spin.
Aside from Wild and Scatter Symbols, this Buffalo Rising Megaways online slot comes with Cascading Symbols that can bring additional bet-free winnings. Moreover, several Mystery Symbols may emerge on a random spin to reveal a single type of icon.


Buffalo Rising Megaways Online Slot: Cascading Symbols
Cascading Symbols occur when elements composing a winning combination disappear from the grid. Since their disappearance leaves certain reel positions empty, symbols above the gaps cascade, to fill in available spaces. If a fresh array of images results to new winning arrangements, the payouts pose as extra winnings on the spin-win that activated the Cascading Symbols Win.
Cascading Symbol wins have greater impact during free rounds. Should a chain reaction of cascading wins transpire, the Progressive Multiplier awarded by a free round will likewise increase continuously and without limit.
Buffalo Rising Megaways Online Slot: Mystery Symbols
A picturesque Sunset scenery poses as Mystery Symbol. On any random spin, be it paid or free, several Mystery Symbols may emerge. The special icons will then reveal a single type of image that will populate the grid; increasing chances of hitting multiple and/or longer winning combinations.
Buffalo Rising Megaways Online Slot: Free Games with Progressive Multiplier
Blue Diamond Symbols take part in this game as bonus game trigger-icons. When a scattering of 4 or more spread across the grid regardless of size and position, the Scatter Combo initialises loading of the Free Games Menu. Qualifying players will select a Bonus Game type, and then proceed with playing the number of spins awarded.
Each Bonus Game awards a different Win-Multiplier Value. The latter feature may be low or high, as the value depends on the number of free-spin rewards. During the round, every win achieved by way of Cascading Symbols, increase the starter Multiplier by 1. If the first Cascading Win sets off a chain reaction of win events, the Progressive Multiplier will increase continuously and without limit.
Free Round Gaming Choices
* 15 Free-Spins plus a 1x starter Progressive Multiplier. Moreover, every Diamond Scatter Symbol, emerging as bonus-spin outcome, adds 4 additional Free-Spins.
* 10 Free-Spins with a 5x starter Progressive Multiplier. Here, each Diamond Scatter in view, yields 2 Extra Free-Spins.
* 5 Free-Spins start immediately with a 10x Progressive Multiplier. A Scatter Symbol emerging as outcome, adds 1 extra Free-Spin to the round.
* Mystery Free Games Choices : This choice gives players a chance to win a longer round of free games with a higher Starter Progressive Multiplier. This approach though entails a shuffling of the numbers and values, whilst keeping them hidden behind 6 panels. The Mystery Number and Value revealed by a selected panel, will compose the free round.
Buffalo Rising Megaways : Buffalo Bet
Know beforehand that it may take awhile and several wagers, before a spin turns up with a winning Scatter Combo.
In order to potentially save time and betting money, Blueprint Gaming included a "Buffalo Bet" betting option. At a cost of 100x the Total Bet used as wager, players immediately receive 4 Scatter Symbols as instant outcome. That way, the Buffalo Rising Megaways Free Spins panel will come into view and commence with a free round.