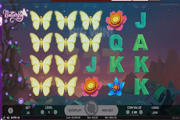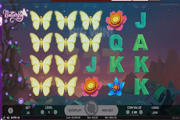 Butterfly Staxx Online Slot: Stacked Butterflies Trigger Respin/s and Lock-in to Land More Butterfly Wins
Butterfly Staxx online slot by NetEnt presents spring-themed reel-elements in a 4-row by 5-column grid built with 40 fixed-paylines. Red, Purple, and Blue Flowers in full bloom land top-paying wins, uniformly awarding 10, 20, or 40 coin credits on a 3, 4, or 5-symbol payline win. The low-win A, K, Q and J icons provide the greens that give the slot screen an uplifting spring appeal. Occasionally, one or more Wild Symbols appear in any reel, boosting players' chances of striking wins in any game mode.
The main reel element is of course, the Yellow Butterfly that tends to appear as a stack of 4 Butterflies in a single reel. Stacked Butterflies emerging as outcomes of a spin trigger a respin, which could go on indefinitely for as long as any of the reels return with more Butterfly Symbols. In the free round, the Butterfly Staxx Free-Spins Reels display only Butterfly and Cocoon icons. The Cocoon images serve as Mystery Symbols that could reveal additional Butterfly images.


The Butterfly Symbols award the highest pays. A pair of Butterflies landing payline positions on Reels 1 and 2, garners 2 coin credits. In the same manner and lining up from the leftmost reel, a three-, four-, or five-Butterfly payline combination, earns players 15, 20, or 60 coin credits.
Butterfly Staxx Online Slot: Wild Symbol
Adorned with a multihued Lotus-like blossom, a Wild card can substitute for any regular paying reel element. The Wild and the identical images though must be aligned in the same payline to qualify as winning arrangement.
In a win-event in which two, three, four or five Wild Symbols form a payline combination, the longest of those groupings award coin credits similar to the highest Paytable reward.
Butterfly Staxx Online Slot: Butterfly Respin and Locking Symbols Features
A complete Stack of Butterfly Symbols landing on any reel, triggers a repin. During the free turn, all Butterfly icons in view, transfer to the leftmost side of the reel. The transfers occur in the same row and in reel-positions unoccupied by a Butterfly image. Those same symbols remain locked in their new position until the respin feature ends.
If additional Butterflies come into view, the respin and the leftward shifts in position continue, whilst keeping the locked icons in place. The respin feature ends only if the reels return without a new Butterfly icon. Nonetheless, the shifts to the leftmost reel, boost if not guarantee, the likelihood of striking multiple Butterfly wins after a respin.
Butterfly Staxx Online Slot: Free-Spins Round
Anticipate three, four, or five pink Scatter icons taking positions in any row or column. Such an event sets off 5. 6, or 7 free-spins respectively.
A Butterfly Staxx Free-Spins Bonus Game runs on reels that contain only Butterfly and Cocoon images. Similar to the base game Respin Feature, all Butterfly Symbols carry on with leftward shifts in position on the same row, and in cells not occupied by a Butterfly icon.
Cocoon Symbols act as active or dormant Mystery Elements. A Cocoon that is active subsequently reveals an additional Butterfly image. The latter likewise locks in place during the round, after shifting to the next available leftmost row-position. A round of Butterfly Staxx Free Games brings guaranteed bonus wins, since the bonus reels could fill with multiple Butterfly icons.