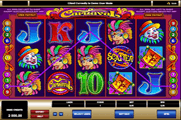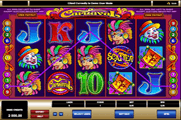 When you think of Carnaval, some of the first things you most likely envision is bright colors, music, and dancing. Microgaming has taken these iconic symbols and more from the Brazilian festival and turned it into an incredibly fun and lively slot game. The symbols are scattered across five reels, and vary from trumpets, banners, carnival dancers, as well as clowns. There are also scatter symbols, 10-A symbols, and of course the Carnaval Logo. All of the different payouts and features that these symbols can trigger can be viewed ta the payouts table of the game.
There are only 9 pay lines for this game, which is kind of a strange number for a five reel slot, but they're pretty straightforward and therefore you can find out how you did on each spin faster than if it were 20 or so pay lines. There are wilds, multipliers and scatters, but no free spins or bonus games for Carnaval. The maximum bonus you can win is also on 5,000 coins, which isn't very large, and certainly not what you would expect for a game that has so few ways to win to start with. These type of games, the ones that make you work harder for your winnings, typically reward you for all of your efforts a little more than this one does. It's still a fun game to play though as it has wonderful visuals, an easy game play that offers players a smooth gaming experience that is like none other.
>

I really enjoy the color scheme of this game. I know it may seem like a minor thing, but some games tend to go overboard with a lot of bright colors. This one has plenty of bright and fluorescent colors, but the dark purple background and generous and well done shading and patterns really help to keep it easy on the eyes. Definitely one of the prettier games that are powered by one of the biggest companies in the industry of online gaming, Microgaming.
So if you want to be a part of the life of the Carnaval and pay it a visit, then this is your chance to do so right here for fun and for free. See what the Carnaval has to offer you in terms of pays, entertainment and surprises before placing real bets on the game at any of the online casinos that are powered by Microgaming like Jackpot City and Gaming Club online casinos.