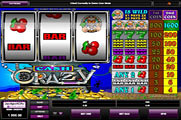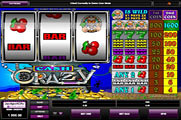 Cash Crazy Online Slot
Cash Crazy is the name of scientist who has invented a machine that produces money, it is simply everyone's dream right? If it is yours, then Microgaming is inviting you to accompany the Cash Crazy Scientist in his lab and with his machine so you can grab your share of the cash that the machine is going to produce. In order for players to do that, all what they are asked to do is place a bet and start spinning the reels of the game in order for winning combos to start forming on the payline of the game so they can start earning the wonderful pays that the slot machine has.
The game has a modern theme, but at heart, it is a classic fruit machine. This is why players can expect to find a nostalgic experience that is offered to them in three mechanical looking reels with one single payline. The symbols that appear on that payline are the ones that will help players get paid, any symbols that land anywhere else on the reels will not contribute in any payouts.

Online slot's Reels and Lines
The symbols that land on the reels include 1 red bar symbols, 2 purple bar symbols and 3 yellow bar symbols, red cherries, green sevens and the logo of the game which features the Cash Crazy scientist holding stacks of dollar bills in his hand. These different symbols will pay players in different amounts when three of the same symbol lands on the payline of the game. These payouts are listed in the paytable of the game that can be found on the right side of the reels. The only two symbols that would pay players when 1 or 2 of them land on the reels are the bar symbols and the cherry symbol.
The biggest paying icon of this game is the Cash Crazy logo as it gives players great amounts of coins in rewards. It can give players 800 or 1600 coins whenever they get three logos on the payline, it depends whether they have decided to place 1 coin in the bet or 2 coins.
The Cash Crazy logo is also the game's wild icon that can replace all other icons on the payline of the game to increase players' chances of claiming a payout. It also acts as a multiplier that doubles or quadruples the rewards when 1 or 2 symbols help in creating a winning combo.