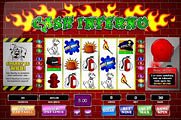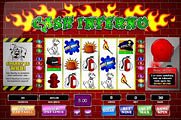 Cash Inferno Casino Slots
Who of us did not dream of being a hero and a firefighter so we can wear the fancy suits, go on the fire truck and go into burning houses to save people's lives. Get ready to embark on a heroic adventure with Sparky the fire fighting dog through this 9 paylined slot machine. Just place your bets, spin the reels and rush into burning places to save people and get paid generously for being the hero everyone needed. So you better be ready for a truly one of a kind and an action packed gaming experience that has everything you always wanted. Try out the gave here for free before placing real money bets on the video slot machines at any of the online casinos that host it.
The symbols that spin include a fire hydrant, a hose, Sparky the dog, matches and a fire extinguisher. All of these symbols come in high quality visuals in order to provide players with a truly immersive experience, and they are accompanied by great sound effects to provide players with the perfect gaming adventure. Placing the bets is a very simple process as you will only need to do is pick a coin value and how many bet lines you want to place the coins on. All of that is done through the control panel of the game that is located at the bottom, the control panel is where players will control the entire game play during their stay at the Cash Inferno slot machine.
[/CBC]

The Visuals of the Casino Slots
The reels are located on a red brick wall of a fire station with a poster of Sparky the Dog on the left side which says Sparky is Wild. This does not mean that Sparky is a naughty or a wild animal, but it means that he can help you create a winning combo by substituting for any of the other symbols on the reels of the game. If players get 5 Sparky symbols on the same line, they are in for one heck of a treat as they will become eligible to claim the biggest payout the game can offer.
On the right side, players will see a red bonus Alarm which is activated when players get 3 or more matching hats on any adjacent reels. The alarm will go off and players will be able to enjoy the bonus round.