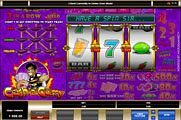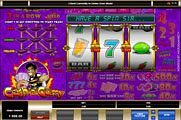 Cash 'n' Curry Slot Machine
Cash 'n' Curry is not your usual three reeled slot machine, despite the fact that it has the same aspects and the same interface of classic fruit machines. For example, it only has three reels that are found in the middle of the screen on the right side and in the middle of these reels, players will see one single win line. On top of that, just like classic slot machine that players used to enjoy at bars and pubs, players will see the paytable scattered across the screen to show them the different payouts that they can earn, the different payable combos and the special icons and features of the game.
The control Panel of the Slot Machine
Under these reels, players will find the control panel of the game which includes the different buttons that will allow them to engage in the game. These buttons include the "spin" button that they will click on so they can start the game as well as the betting option. Players will find the + and the – signs that they will click on to decide how much they want to place in bets on the slot machine. The smallest bet is equal 0.01 and the biggest one is equal 10. Of course, players are always advised to place the biggest wager so they can earn more rewards.
The game itself is themed around the Indian cuisine, this is why it is named after one of the most popular and tastiest Indian spices, curry, as it is named Cash n Curry. This is also why the entire interface of the game is themed around the Indian Cuisine and this is why players will find an Indian waiter holding spicy Indian food and stacks of money in his hand, to be suitable with the name of the game, Cash n Curry. Even the symbols that will appear on the reels have the same theme as they include spicy chili, Indian bread, drinks, watermelon, diamond rings, green vegetables and blue sevens as well as the Indian soup bowl.
The game is all about multipliers, so players who form winning combos will get their bet multiplied by a certain multiplier according to the symbols that are forming the combo. Players can see the different combos all over the screen to check how much they will win. For example, the highest paying symbol is none other than the diamond ring as players who get three of these rings on the payline of the game will have their original bet multiplied by a 500x multiplier. As for the lowest paying symbol, it is the bread icon which pays players 2x.
The game is an advanced fruit machine that comes with a very special feature that players can view by clicking on View Feature. When the feature is activated, players will start spinning something similar to the wheel of fortune so they can get to claim great pays and instant cash rewards.