User Rating: Be the first one!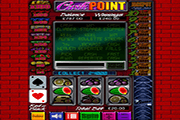 Cash Point Online Slot: 3-Reel Fruity Enriched with Awesome Bonus Features!
Cash Point by OpenBet is a 3-reel, fruit themed online slot with a single payline offer. Yet this game has multiple bonus features, awarded at random or by way of a Cash Point Trail. Actually, aiming to land on a payline win may only be incidental, as the Trail Feature may bring greater benefits.
Nonetheless, this game sets off random events that tend to boost chances of hitting lucrative payline wins. Although the conventional Wild Symbol and Free Games offered by modern 3-reel slots are missing, their absence does not have a significant impact. The bonus features that transpire either at random, or via the Cash Point Trail, can very well compensate for the lack.
Take notice of the Paytable Values on the left side. as it also serves as Cash Prize Ladder. Some Bonus Features award a cash prize based on the corresponding payout of a randomly chosen symbol.
Cash Point Online Slot: Random Bonus Features
On any spin, the following events may take place to ensure that an ongoing spin will come up with winnings:
Spin a Win – The next reel-spin comes with certainty of producing a winning combination.
Cash Grab – A 3-of-a-kind match that lands on the top row will nudge down the middle row; qualifying it as a payline win.
Instant Winner – An ongoing spin will produce a high-value win.
Money-Go-Round – A light flashes clockwise around the reels to randomly select a symbol that will award a Cash Prize. Cash Point players need to click on the SPIN Button to stop the round-the-grid flashing movement.
Cash Point Trail Feature
This feature rewards players with different win-boosting elements. They either hasten the Cash Point Trail progression, or bring Cash Cards that entitle players to collect cash bonuses.
A player though must first collect eight (8) Cash Points to attain the Cash Card Level. Moreover, it is important for the increments to occur in succession, with no interruption whatsoever. Still, a random feature allows players to keep the Trail Progression intact; even if the latest spin failed to produce additional Cash Points.
Cash Points
These are numbers displayed by some icons. However, the numbers will count as Cash Trail Points, only if they emerge on the lone payline.
Let us say, 2 symbols landing on the Paying Line comes with a 1 and a 3 Cash Point. This means the Cash Trail will advance by 4 steps, enough to reach the Bonus Level. However, the next spin must produce Cash Points that will advance the progression up to the Cash Card Level. Otherwise, the trail resets to zero level; not unless the Trail Held Button lights up, or the Bonus Level awards a trail-boosting feature.
The Trail Held Button
This special button above the slot screen lights up at random. When it does, the current Cash Trail progress locks-in; even if the latest spin did not advance the trail to the Cash Card Level. Although this feature is awarded arbitrarily, it may occur continuously; giving players several chances of reaching at least the Bonus Level, if not the Cash Card Level.
The Bonus Level
The Cash Trail requires exactly four (4) Cash Points to activate this feature. Once activated, Bonus Titles will flash on the small rectangular screen above the reels. Players will have to click on the Spin Button to win any of the following:
Respin the reels to possibly land Cash Points that will advance the Trail to the Cash Card level.
Add Again/Double Trail – The 4 Cash Points that triggered the Bonus Level will be added again; completing the 8 Cash Points needed to reach the Cash Card stage.
Numbers in View – All numbers in view, including those in non-payline positions will be taken up as Cash Points.
Card Card Level
Reaching this level entitles a player to receive any of 12 Bonus Prizes. Each Cash Card collected gives players a chance to win one of the random Bonus Prizes being flashed by the Cash Point screen. The number of available Cash Cards is between 1 and 10, which players earn by collecting Cash Points continuously.
The array of Bonus Prizes are awarded thru different methods that activate by way of a Cash Card. Some Bonuses come with a second chance spin. The Extra Spin allows players to win an additional prize without reducing the remaining Cash Card Rewards.
Cash Point: Collect Sure Wins from Random Bonus Features or via Cash Cards Collected from Trail Game
Cash Point furnishes a modern 3-reel, 1-payline Fruity online slot enriched with several bonus features. Players are given chances to collect sure wins by way of randomly triggered bonus events; or by collecting Cash Cards from the Cash Trail feature.