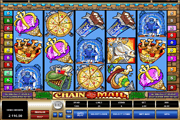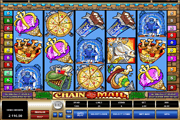 Chain Mail: A Microgaming Video Slot with a Rewards-Filled Bonus Game
Chain Mail is a five-reel online video slot with 20 active paylines presented with an outwardly puzzling theme. Although the special icons represent both the traditional and the modern day connotations of chain mail, the rest of the reel images are colorful assortment of delectable food treats, seemingly unrelated to the game title.
Despite the conundrum presented by the game theme, this Microgaming video slot is quite popular. After all, it has the important reward-boosters that make a slot game highly interesting and worth a player's while.
The Chain Mail Castle Bonus Game
The slot's main attraction is the interactive bonus game, as it could bring as many as 19,300 coins as extra rewards. The simultaneous appearance in the first, third and fifth reels of the Castle Bonus Game symbol, activates the bonus round. Signaling the activation of the Castle Bonus Game is the transformation of the B emblem to reveal the castle's Ice King.

The game play revolves around a storyline about the Ice King's daughter, Princess Roxy, who is held captive by the Ice King's nemesis, Uncle Mordread. A bonus game player will be rewarded for helping the Ice King free his daughter via simple acts of clicking on one of the doors, activated one row at a time. Any mystery coin rewards revealed are for the player's taking, and he or she can continue collecting coin rewards for as long as the door reveals mystery prizes, or even better, Princess Roxy.
If a player succeeds in revealing Princess Roxy, all hidden coin rewards in that particular row of doors will be granted automatically as extra winnings. The player can then proceed to click on the next rows of doors to reveal more mystery coin rewards or another Princess Roxy image. However, clicking on a door that exposes the image of Uncle Mordread ends the game, and one's chances of collecting all other unraveled coin prizes.
The Chain Mail Wild Multiplier
Another reward-boosting element of this well-loved Microgaming video slot is the Chain Mail Wild Multiplier, represented by an armor made of small metal links. All Wild substitution actions that completed payline combinations, earn payouts calculated at twice or 2x the regular pay of the matched symbol. Three or more of the Wild symbols also form a winning combination; landing on five (5) WILD symbols bring additional 6,000 coins as top prize.
The Mail Bag Scatter Pays
In some other slot games, a Scatter symbol triggers a free spin round, but this is not the case with the Chain Mail video slot. Here the Mail Bag Scatter symbol represents extra wins that can be achieved when three or more of the Mail Bag icons appear anywhere across the reels, even if the combination did not occur on a payline.