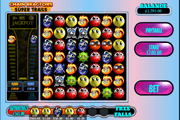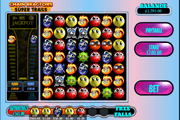 Chain Reactors Super Trails: Series of Cluster Wins Lead to Super Trail Bonus Features
Chain Reactors Super Trails is a no-payline online slot by OpenBet offered via the NYX/NextGen Gaming software. Seven bead-like icons with varying facial features drop into 25 positions inside a 5-row x 5-column slot grid. When 5 or more identical Bead Heads land adjacent to each other vertically, horizontally, or both, the cluster of winning symbols disintegrate and disappear from the slot board. The removal will create spaces to where new icons drop at no additional cost. If by chance, the fresh supply of Bead Heads finds compatible cluster-matches among the existing images, another symbol-dropping action will occur.
A Cluster Win therefore has potential to give players additional chances of hitting additional wins via a single bet. Actually, a chain of Cluster Wins could trigger a Bonus Feature if the Bead Head icon involved is the orange character with a fiery top (Fire), or the one that looks like a vintage cannonball explosive (Bomb); or for that matter any other Bead Heads comprising 7 Cluster Wins in succession. In fact even Goldie, the frequently appearing happy-faced, yellow Bead Head is capable of rewarding players a Progressive Jackpot.


This Chain Reactors Super Trails has no Wild Symbol to offer. After all, the icon matching rules are flexible, permitting Cluster Win formations in any manner and in any position across the playing field.
Chain Reactors Super Trails: Bomb Bonus Feature
Every Cluster Win comprising five or more Bomb images works toward the activation of the Bomb Trail Bonus Feature. The wins do not have to occur in succession. Each Bomb win-event lights up a marker in the Bomb Trail Meter. When all ten markers have lit up, the Bomb Trail Bonus Feature activates.
Bombs descend across the slot board, causing some Bead Head icons to explode and disappear. Chain Reactors Super Trails players receive compensations for the disappearances. The prizes vary, as they will be based on the bonus awarded by the exploding symbols for this particular Bonus Feature.
Chain Reactors Super Trails: Fire Trail Bonus Feature
Similar to the Bomb Trail Bonus, Cluster Wins comprising 5 or more Fire totems light up the markers of the Fire Trail Meter. This time though, lighting up all 10 Fire Trail meter-markers will bring to life a fire-breathing Dragon. As the Dragon explores the playing field, the animated icon breathes fire on randomly selected Bead Heads, causing them to disintegrate and disappear. Again, players are compensated based on the pays awarded by the vanishing symbols exclusively for this Bonus Feature.
Chain Reactors Super Trails: Free Falls
Take note of the win-tracker tool below the Fire/Bomb Trail Meters. Seven or more Cluster Wins whether occurring in succession or in separate occasions, initiate the loading of the Free Falls Bonus Round. Once activated, fifteen (15) free falls will be played at no extra costs.
The Free Falls Meter continues to keep track of the number of Cluster Win events occurring during the bonus round. This denotes the Free Falls Bonus can be retriggered. However, Fire and Bomb will not appear during the free fall events, which means the Fire and the Bomb Bonus Features are not available in the free games.
Chain Reactors Super Trails: Progressive Jackpot
Goldie, the smiling yellow Bead Head appears almost regularly and in multiples. A lucky player who hits a Cluster Win comprising 30 or more Goldie images, stands to receive the Chain Reactors Progressive Jackpot.