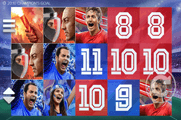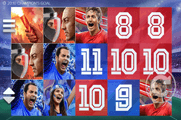 Champions Goal – Elk Studios Slot Machine
Elk Studios is a new name in the online gaming community, but it is slowly making a name for itself through its advanced slot machines that come with amazing themes and a lot of payouts. This game, Champion's Goal was the 3rd game to be released by the developer. As the title of the game implies, Champion's Goal, this slot machine is themed around the sport of soccer. The game is exiting and has a beautiful theme that is presented to players in awesome visuals, as well as sounds that help provide an immersive game.
The theme of soccer was visited by plenty of other developers, but Elk Studios' version is quite unique. This is because most of games focused more on the game and the players, while the game focuses on the fans, because after all, they are the soul of the game.

Gaming Format and Symbols
This Elk Studios soccer themed slot is offered to players in 5 reels that has a total of 10 lines. The game might be a little violent, as it depicts the violence and confrontations between the cops and the fans, but let's be honest, this always happens in big matches. As mentioned before, the game focuses on the soul of the sport of soccer, the fans and the crowd. This is why players will see plenty of fans as symbols spinning on the reels of the game, a soccer ball, riot police, a referee and the Champion's goal logo of the slot.
The match is between a red and a blue team. This is why the fans wear these two colors to show their love for their teams. There is also the Red streak and the Blue streak winnings.
Bonus Features and Symbols
The game's wild icon that can stand in for other icons is the wild logo of the game, "Champions Goal". The wild icon would not be able to stand in for the scatter ball, the referee or the trophy icons.
The referee icon can trigger the sticky corner feature. It gives one re spin during which there is a sticky wild on each of the 4 corners of the reels. The football triggers the Free Kick feature in which the following win will be multiplied by 5. Also, colliding free kicks clear all symbols. Lastly, there is the Golden Trophy that gives players +1 free spin and each extra trophy gives one free spin and 3 extra minutes. The TIFO feature is triggered when players get 3×3 icons of the same color which will trigger the cascading TIFO feature that can give many prizes.