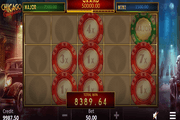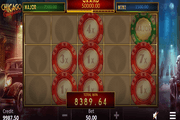 Chicago Gangsters Online Slot: Unique Free-Spins Bonus Round May Pay Grand prize of 1000x the Total Bet
Chicago Gangsters is a Playson 20-payline online slot with a unique Free-Spins Bonus Round. The Bonus Game Board yields only Bonus Symbols holding Total Bet Multipliers. All of which lock in place until completion of the bonus bout. The round ends when all available free turns have been played; or when Bonus Symbols filled all 15 positions of the 3×5 grid. Upon completion of a free round, all Multipliers in view apply in determining the aggregate Bonus Prize. The maximum prize that can be won from a single bonus round is up to 1000x the Total Bet.
In the meantime, while waiting for Bonus Symbols to land a trigger-combination, Wild and Mystery Symbols come around as win-bosting elements. Wild Symbols can represent any icon except Bonus Symbols. At the same time, Wilds may also appear in numbers and positions that can organise as payline win. On other hand, several Mystery Symbols may land on reels to reveal a single type of icon; greatly increasing chances of hitting pay dirt by way of multiple winning combos.
Wild Symbols and the featured Chicago Gangster share the same range of payouts; 15x, 50x or 200x respectively, on a 3, 4 or 5-of-a-kind winning arrangement. Payline rewards are multiples of the Coin Value staked as Line Bet.


Chicago Gangsters Online Slot: Mystery Symbol Feature
During an ongoing base game turn, reels may yield blank tiles as final displays once the spinning motion stops. When all reels settle down with their spin outcomes, Mystery Symbols held by reets will then reveal a single type of image. Mystery Symbols though will not reveal Wild icons.
Chicago Gangsters Bonus Game
Bonus Symbols come in three (3) colors, Red, Green and Blue. A scattering of six (6) or more Red Bonus icons ocçuring as outcomes of a single spin, activates the unique Bonus Round. Chances of activating the bonus game are high, since Red Bonus icons occur in reels as Stacked Symbols.
The free round plays on a special grid that displays only Bonus Symbols (Red, Green, and Blue). Initially, three (3) Respins will carry on with the bonus game; as all Red Bonus tokens including those that unlocked the special grid, lock in place. At the very onset, every symbol in place reveals a Total Bet Multiplier. All Red Tokens appearing thereafter will do the same.
Moreover, at least one additional Red Bonus Symbol turning up as outcome, resets the number of Respins to three (3). If a bonus bout runs out of free rolls to use, the game proceeds by calculating and summing up the bonus rewards attributable to each token. Filling up the entire grid with Red Bonus icons is a grander achievement, because such a feat awards the 1000x Grand Prize.
Those developments pertain only to Red Bonus Symbols. Now, what about the Green and the Blue Bonus Symbols?
Green Bonus Symbol
Take notice that a Green Bonus Symbol comes with a MAJOR label. This denotes that the Major Bonus Prize of 150x the Total Bet will be awarded, when this particular icon turns up as outcome of a Bonus Game respin.
Blue Bonus Symbol
The Blue token comes with a Minor Label and of course, a lesser prize value of 30x the Total Bet. Once in view, the Minor Bonus Prize will form part of the Total Bonus awarded at the end of the free round.
The occurrence of a Green and/or a Blue Bonus Symbol does not end the bonus session.It merely bars any possibility of collecting the 1000x the Total Bet Grand Prize.