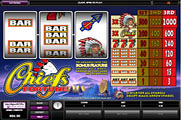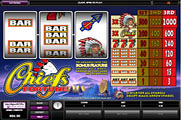 Indian Themed Chiefs fortune Free Slot
The Native American, also known as the Indians, were well known for their hidden treasures and their spiritual world. This game invites players to travel in time back to the USA when Indian tribes still ruled the lands and lets them in on the great spiritual world that they have created for a chance to grab as much fortunes as they can. Each Indian tribe had a Chief; he was the wisest and the wealthiest of them all. So pack your bags and get ready for a greatly exciting experience that is powered by Microgaming, and get ready to claim your share of the Chief's Fortune.

Gaming Procedure of the Free Slot
In order for players to reap the rewards that the Chief has for them, they will have to first decide how much in credits do they want to place on the game and then spin the reels. There are two ways to do that, they can either place on Max Bet to place the biggest possible bet and spin the reels at the same time, or they can go through the betting options then click on spin. These betting options include the value of the coins as players will toggle between the available values by clicking on the Plus and Minus buttons, and the other betting options is the number of coins as Chief's Fortune allows players to place from 1 to 3 coins.
These bets are placed on one single line, because like classic slot games, Chief's Fortune only has got one payline that players will have to form winning combos on. These winning combos can be seen at the payouts list that is found on the right side during the main game screen. Player will see a big table that shows them all of the different combos and how much will each combo give to players in rewards depending on their betting level. This is why there are three different columns for the payouts, one for the 1 coin bet, one for the 2 coin bet and one for the 3 coin bet.
The Chieftain symbol is the icon responsible for giving the biggest payout of this game, as it can give players, depending on the number of placed coins, from 500 coins and 2000 coins. On top of that, it is also a wild icon that can fill in for any of the other icons on the reels of the game.