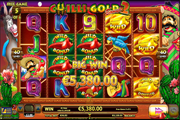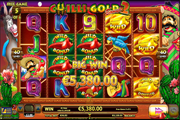 Chilli Gold 2 – Online Slot with Stellar Jackpots and 2x-Multiplier on Wild-Completed Bonus Wins !
Chilli Gold 2 picks up from where the original Lightning Box Chilli Gold slot content left off. Created in collaboration with NextGen Gaming and deployed via the NYX OGS platform, this Chilli Gold 2 slot sequel has expanded, as it now offers double pays for all Wild-completed payline wins in the Bonus Game.
Moreover, Chilli Gold 2 players will actually be playing with two types of games: the 40-payline reel-spinning betting game and the Stellar Jackpots interactive, intergalactic battle-themed video game. The potential rewards could prove to be too hot to handle as both bonus game segments award guaranteed wins!
[/CBC]

Chilli Gold 2 Online Slot Wild Symbols
This Lightning Box online slot has two Wild Symbols in play, one of which appears only in the Free-Spins Bonus Game.
The Red Chilli is still the Wild Symbol that substitutes for regular icons. Just like in the original content, six (6) or more and up to 21 Red Chilli icons appearing altogether in Reels 2, 3, and 4, trigger 3 up to 21 free-spins accordingly. Landing on multiple Red Chilli Wilds is not as farfetched as it may seem because those images often appear as full-reel Stacked Symbols in the three center reels.
As a regular wild symbol, the Red Chilli icons appear in both the base game and in the free-spins round. That being the case, it also poses as a Bonus Game re-trigger symbol when appearing in specific number combinations that set off a round of bet-free spins.
Gold Chilli Wild and Gold Chilli Doubled are the Extra Wild Symbols appearing in the Bonus Reels. Like the Red Chilli, the Gold Chilli icons are configured as Stacked Symbols. Yet unlike the red one, the Gold Chilli Wilds emerge in Reels 2, 3, 4 and/or 5.
The Chilli Gold 2 Free-Spins Bonus Round makes a big difference. All payline wins completed with a Red Chilli Wild and/or Gold Chilli Wild, whether marked as Doubled or not, pays twice as much as the normal win value of the winning symbol.
Chilli Gold 2 Stellar Jackpots Bonus Game
This particular game segment is configured to activate at random.
Players will be presented with an interstellar-themed game panel, and vie to win one of three (3) main cash prizes: the Mini Jackpot, the Minor Jackpot and the Major Jackpot. The amounts are not progressive, but are in fixed values as indicated at the top of the base game screen.
The Stellar Jackpots Round comprises six (6) game challenges. Here, players have to destroy as many intergalactic spacecrafts as possible, by launching a single missile. Actually, all a player has to do is to select one of several spacecrafts presented, as one would be enough to destroy multiple vessels that will reveal bonus cash rewards. If one of those destroyed reveals an Arrow-Up icon, it denotes that the Chilli Gold 2 Stellar Jackpots game will proceed to the next level.
Bonus Game players, who succeed in completing all six (6) challenges, will then play the final round. The game play now involves selecting outer space objects to unravel Mini. Minor, or Major Jackpot logos. Once a player makes a 3-of-a-kind logo match, the jackpot corresponding to that matched combination will be awarded as bonus prize for playing the Chilli Gold 2 -Stellar Jackpot Bonus Game.
In the event that an X icon was revealed in a game level, a bonus game player can still select another object in that stage. However, the Chilli Gold Stellar Jackpots Bonus Game will end, if a player unravels more than three (3) X marks before all six challenges have been surpassed.