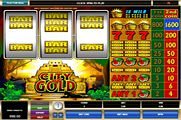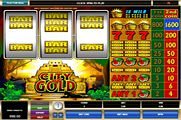 City of Gold is a three-reeled slot machine that has a very alluring theme, as it is themed around the rich and the fortunate city of gold. This theme is obvious for players who open the game, as they will notice that the golden color dominates the entire interface of the slot machine. Players will see the logo of the game sitting in front of a temple made out of gold in the city of gold. As for the symbols that spin on the reels of the game include bar symbols, but instead of the usual black bar symbols, they are golden bars. Other symbols include a pot made of gold filled with unique marbles and stones, and watermelons. The game has three reels and one middle winning line. The game might be a classic and a traditional format, but it is quite rewarding and fun to play as it takes players to the long lost Mayan city of Gold so players can get to claim their own share of the golden treasures of that city.

The paytable of the game, just like traditional slots, is located on the right area of the screen. It is divided into two parts. It shows players the rewards that they can claim according to the combos they succeeded in achieving according to their betting level as players can place one or two coins on every single spin. Of course, players are always encouraged to place the highest bet of 2 coins so they can have a crack at the jackpot of the game, which is the highest payout that the game has. It is paid whenever players manage to get 3x golden treasure icons on the single payline of the game.
When it comes to placing the wagers, players can go through the different wagering options at the bottom right under the reels and the logo of the game. The game's wild symbol is the golden pot. It can replace other symbols to help players earn a payout. This payout is multiplied by a 2x multiplier or a 4x multiplier of 1 wild or 2 wilds appear on the reels, and when players get three wilds, they will trigger the jackpot of the game.
The game is available right here for fun so players can check out the game and all what it has to offer them for fun before they can start placing real money bets.