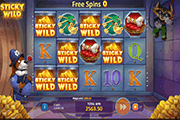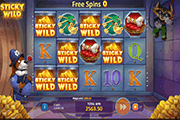 Claws vs. Paws Online Slot: Guaranteed Wins, Respins and Free-Spins!
Claws vs Paws online slot from Playson, takes on the cat-versus-dog theme in delivering 20 paylines on which to place bets. The Cat characters role play as thieves set on stealing from a bank. Yet they are the main feature-movers. During paid and free-spins. their covert actions may add or modify the outcomes. The bank's Dog Guard keeps a tight watch, at times benefitting players. The Dog Guard's keen vigil may bring some high-impact Respins that give players extra winnings.
Three (3) Cat Thieves will attempt to break-in via three (3) different Free-Spins Modes. In each caper, the triggering Cat adds a special element, such as Sticky Wilds, Sliding Wilds or a Progressive Multiplier. As the Bank Vault is their main destination, the vault image is instrumental in triggering a free round. One of three Cat Burglar icons though, has to complete a Bonus Round trigger-combination. That way players can activate a corresponding round of Free Games.

Claws vs. Paws Online Slot: Wild Symbol
A Blue Diamond seems to be the principal target of the heist. This icon is also a major element since it serves as the Wild Symbol of the game. Diamond Wilds are present in all reels. Any that combines with alike symbols in a payline can complete, or lengthen a winning combination.
They can also form a winning arrangement and award payouts just like any regular symbol. A convergence of 2, 3, 4, or 5 Wilds from the first reel onward, awards a cash prize equal to 2,x 100x, 300x, or 600x the Line Bet.
Claws vs. Paws Online Slot: Base Game Reel Modifiers
During base game spins, a Cat Thief tries to break in by tampering with the slot grid. Outfitted with a device that can remotely manipulate the outcomes of an ongoing spin, the following actions may change the original displays of that turn:
Big Win Hacking – The Cat Thief replaces symbols arbitrarily to ensure that the spin will result to a Big Win.
Winning Streak Respins The reels automatically launch three consecutive Respins at no additional cost to Claws vs. Paws players. Each Respin is certain to produce positive results.
Scatter Nudge may occur when there are already two Bank Vault Scatters in view. Unless prevented by the Guard Dog from doing so, the Cat Thief will Nudge the last reel until a Cat Burglar Scatter comes into view. The image of the Thieving Feline that completes the bonus-game trigger-combi, will then launch the related Free-Spins Round.
Top Symbol Respins are 3 free turns that transpire when the Dog Guard performs a grid inspection. While flooding the reels with flashlight beams, low win symbols disappear from the reels. The Respins therefore may produce winning combinations comprising Top-Paying icons.
Claws vs. Paws Free Games
One of three types of Free-Spins may activate, when two Vault Bonus Symbols in Reels 1 and 3 altogether appear with a Cat Burglar icon in Reel 5. To distinguish one from the other, the bonus games are color-coded. Each color motif pertains to a Bonus Round that comes with a special Wild or Symbol.
Bronze Cat-Thief Free Games is a 10-Free Spins Bonus Round. On each bonus spin, a number of Sticky Gold Bar Wilds are added to random reel positions. Some of the previously added Wilds though may disappear, as the Dog Guard keeps a close watch in order to keep the Gold Bars intact.
Silver Cat-Thief Free-Spins is a round of free games with a Progressive Multiplier. This feature has no set number of free spins rewards. Completion of the round depends on how soon, or how long it will take for 3 Alarms to light up. Aside from the alarm Symbol, a Decrypter icon also comes into view.
Every Decrypter that lands as outcome of a bonus spin increases the Multiplier by 1. On the other hand, each alarm image that comes into view brings down the current Multiplier value by 1. Whenever an Alarm icon appears, an Alarm Light at the top of the grid lights up. Once all three warning lights are on, the bonus feature ends.
Gold Cat Bonus Game is another free-spins mode that runs with indefinite number of turns. On every bonus spin, a Sliding Wild takes a random reel position.
A Sliding Wild slithers down one position at a time on every spin. Three Sliding Wilds will be placed on reels on different occasions during each Gold Cat caper. This bonus round ends once all three Sliding Wilds are no longer in view.