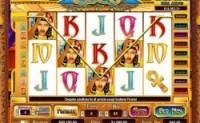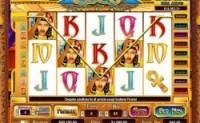 Cleo Queen of Egypt Slot Machine
Cleopatra. You know who she is: she's the sultry Queen of Egypt. She's ruled over Egypt for several years and has had a few lovers in life. She's had images of herself put on hieroglyphics and she's been heralded as one of the past leaders who had power. Now, she's ruling in the world of slot games with her own branded slot machine game. Here's her game made by the master developers Cryptologic: Cleo Queen of Egypt.
Cleo Queen of Egypt is a hybrid slot game that has 5 reels and is a progressive jackpot. It's only one of a few slot games in Crytologic's catalogue that offers only 9 paylines. But in exchange for this short number of paylines is the number of jackpots available.
Slot Machine Jackpot Bonus
While the max jackpot is $20,000 (this is of course the standard jackpot) the progressive has amassed almost $580,000 and counting! And another thing: there are nine "crazy jackpots" so this means you have a chance at getting the max $20,000 nine times! This is definitely a big luck for you.

The game is very Egyptian. You can see it from the start to the finish. From the design, the symbols, the intro…. You'll see the slot game has been made Egyptian from the ground up. If you're a fan of Egypt or you just love looking at this ancient stuff, you can admire it all you can while playing slot games. There are small details and sound effects that give this game a nice touch it. It's not spectacular in the sense that it will make you go, "Wow!" but it definitely adds a nice touch of Egyptian history into the game. And really… who can resist the lustrous eyes of Cleo? She's being used as a symbol after all.
Despite the short number of paylines, the slot game does have a big bet range for each line. If you thought $20 as a max bet on a line was a lot, wait until you get a load of Cleo's bet max: $45. Yes, you heard that right. While it's got fewer paylines, the bet max goes up double. You can bet that you'll be taking a good risk just to get the progressives.
Can't stay up all night looking at Cleo's symbol? You can go ahead and use Cryptologic's prominent feature, the autoplay. With a few set-ups here and there, you can let the game randomly spin for you up to 999 times. You can even skip some animation and processes so it'll be a breeze for you as you play. Just sit back, relax and eat some grapes.
The bonus feature for this game is the wild symbol and it's Cleo herself. She functions in a dual role. First is her substitute function. She'll substitute for any symbol to make the winning combo but she cannot pitch in for the scatter symbols. The second is her activation. If you can hit 5 wilds, you'll win one of the crazy jackpots in the game (which means in an instant, you get $20,000 or whatever is listed below the screen). It may not be much but hey, not everyone can get an instant $20,000 win right? Take it or leave it!
The bonus round is activated if you get three or more Pyramid symbols and in this one, you'll select icons that hide different prizes. Free spins, multipliers, cash… you name it, it's got it! It's a matter of luck finding the best prize so keep looking as you go because you'll never know what's under the icon until you pick it.
If you're still baffled by how the game works, Cryptologic's got you covered. You can access the help and rules page which is always made with all Cryptologic's games. You can find out the value of symbols, the pattern of the paylines, the strategy to getting the bonuses, and everything else. It will come in handy when you're in question about something so go ahead and take a good look at it for as long as you like. Cleo's not going to punish me for checking on it.
Overall, Cleo Queen of Egypt is a solid slot game. Although it only features 9 paylines and has a max of $20,000 jackpot, it makes up for it in progressives, "crazy" jackpots, cool bonus features, and the slick Egyptian design. With random spins and other cool features, you'll have fun playing along with the Queen of Egypt as she leads you to your luck.