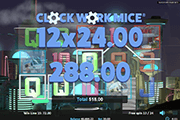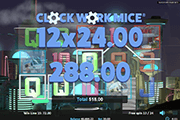 Clockwork Mice Online Slot: Awards up to 48 Free-Spins that Multiply All Wins
Clockwork Mice is a 20 payline online slot from Realistic Games, which awards bonuses by way of Free-Spins with Multiplier boosts. The game play is standard, requiring an organisation of 3 or more alike icons as contents of a paying line. Alignments though, must start from the leftmost column. If a Wild Symbol aligns with the matching images, it counts as a completing or lengthening element of a winning arrangement. Now if at least three (3) Clock Symbols simultaneously take grid positions after a single spin, the game advances to the Free-Spins Bonus Round.
Although seemingly uneventful during base plays, there is much to look forward to during bonus rounds. Every time a bonus spin produces a win or wins, a Multiplier Value is awarded to increase related winnings. A Multiplier is awarded only once; giving players chances of triggering the rest in the remaining bonus period. If luck is on a player's side, he or she may receive the high value multipliers on bonus spins that produced Big Wins!


Clockwork Mice depicts a group of diligent mice, rendering clockwork services in different business establishments. Based on the images portrayed by medium-pay icons, they work during the day at a Cafe and at a Tour Bus Terminal. After their day stints, they continue with their clockwork tasks at a Casino.
All three (3) Working Place images award uniform pays equal to 4x, 16x or 40x the Total Bet.
Clockwork Mice Online Slot: Wild Symbol
Animations of the hardworking rodents appear via the Clockwork Mice Game Logo; being the Wild Symbol of the game.
This special icon also awards the highest payouts when organised as winning contents of any paying line. An alignment of 3, 4 or 5 Logo Wilds, correspondingly garners a cash value equivalent to 10x, 125x or 250x the Bet staked per spin.
In fact, the Logo Wild's 250x the Bet Value payout is the Jackpot Prize yardstick.
Clockwork Mice Online Slot: Free Games
A scattering of at least three (3) Clock Symbols anywhere across the play area, activates 12 Free-Spins. Landing on a spread of four (4) or five (5) is better, as such Scatter combos trigger 24 or 48 Free-Spins respectively. If during the bonus round another set of three (3) or more Clock tokens occur as bonus spin outcomes, the corresponding set of free games, will extend the free bout.
Here, a larger version of the Clock icon, appears as overlay element after each winning spin. The hand of the Overlay Clock turns as means of arbitrarily determining a Win Multiplier, anywhere between 1 and 12.
The Clock Multiplier
The huge Clock Overlay emerges and awards a random Multiplier only after a winning spin. All payouts garnered from a related spin, increases by the Multiplier Value on which the Clock Hand landed.
Once a Multiplier Value has been awarded, the number will no longer appear in the Clock Overlay. This Clockwork Mice rewards system, eliminates any possibility of awarding a Multiplier Value, more than once during a bonus bout.
Now what happens if all Clock Multipliers haven awarded while there are still free-spins remaining?
In the event all twelve (12) Multipliers have been taken out of the Clock Overlay, the game automatically ends the free bout, whilst cancelling all remaining free-spins. The Jackpot Prize, pegged at 250x the current Bet, will be awarded as Total Bonus Wins for the entire set of free games.