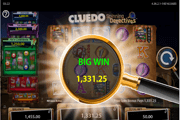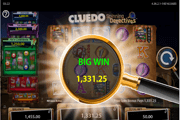 Cluedo Spinning Detectives : Great Bonus Rewards from Extra Reels and Free-Spins Round!
Cluedo Spinning Detectives is an SG Interactive online slot developed by Williams Interactive. This Hasbro-branded 40-payline online casino game furnishes an extra set of reels depicting the board game's Tudor Mansion. Activating a particular set of Room Reels initiates a temporary replacement of the Main Reels. After which, the next spin will run on reels enhanced with win-boosting features.
Yet the more exciting aspect of this icon-matching game is during a round of free games. The Free-Spins Bonus Round will run on any one of the Extra Reels. At the same time, it uses Clue Cards in revealing special attributes such as Additional Free-Spins and Game Advancement. The great news is that this online casino game has additional Bonus Rewards to offer via the Spinning Detective Bonus Game. The latter is a clue-collecting game that has potential to pay rewards in fold by revealing one or more 2x Multiplier.


Cluedo Spinning Detectives Extra Reels
In this WI/SG Interactive betting game, the Cluedo Tudor Mansion rooms represent five Extra Reels. Each Room Reel set comes into play when its corresponding trigger symbol emerges as outcome of a spin. In addition, every Room trigger-symbol in view has a corresponding payout of 1x the Total Bet.
The Conservatory Reels Here, Gold Highlighted icons of Mrs. White, Mr. Green, and Mrs. Peacock, earn higher pays. The Extra Reels also award wins on any mixed combo of those three Cluedo characters.
Billiard Room Reels feature a White Ball that adds Wild Ball Symbols across the Room. The White Ball though occurs only in Reel 3, while the Wild Ball icons it produces take position in Reels 1, 2, 4, and/or 5.
Library Room Reels One or two columns in this set of reels become full-reel Stack of Books Wilds.
Kitchen Reels This set of reels has more win-boosting Wild icons to offer. Two, up to 15 images of Wild Symbols appear as reel enhancements.
Dining Room Reels – A Murder Weapon surfaces in this slot grid, as two, up to five Reels will display a full-reel image of a Poison Wild.
A set of Room Reels returning after a spin with five Magnifying Glass icons in any spots across the reels, awards the Room's Jackpot prize.
Cluedo Spinning Detectives Free Games
An image of the Tudor Mansion poses as the Free Games trigger-icon. However, it is configured to take position only in Reels 1, 3, and/or 5. If after a paid-spin the three designated reels simultaneously display a Mansion icon, the event initiates the launch of the Free-Spins Round. The Bonus Game commences using the Conservatory as initial set of Bonus Reels.
An Envelope totem will replace the CLUE Logo as Wild Symbol during the free round. Aside from having a substitution attribute, an Envelope Wild landing on a Reel 5 position produces two Clue Cards.
Selecting a Clue Cards will unravel a Bonus Feature: an Additional Free-Spin or advancement to another set of Room Reels.
Cluedo Spinning Detectives Bonus Game
A trio of Card icons activates this feature. Players simply click on any of seven CARDs in view. Their goal is to fill each section of the Clues Found area in order to solve the crime case. The collection of clues revealed must result to 3 identical matches in order to win the Completion Prize.
Collecting two matched images is enough to trigger the Last Chance Pick as final try to complete the 3-symbol combination. This Bonus Game also comes with a 2x Multiplier that could increase the Total Bonus Wins 2x or even up to 4x.