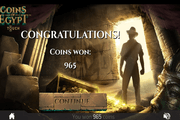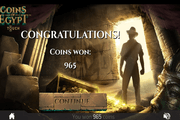 Coins of Egypt Online Slot: Pharaoh Coins Supplement Base and Bonus Game Payouts with Extra Winnings!
Coins of Egypt by NetEnt furnishes an exhilarating 20-payline game by way of a "Pharaoh Coins Win" feature. Coin Values affix on 1 to 3 random icons, which players can claim as supplementary winnings. When playing via paid spins, all current Coin Values in view can be claimed if the COLLECT icon emerges in Reel 5. During free games, every Coin Value emerging as outcomes of bonus spins, are stored in a corresponding Treasure Box. Claiming them as supplementary bonus winnings, requires collecting Seals that will unlock a Treasure Chest.
The best part is that a round of free games plays for an unlimited number of spins. It culminates only if one of 3 Treasure Chests has been unlocked. The first Treasure Chest to unlock, will then release the Total Coin Values amassed. At that point, the free round ends by awarding all bonus-spin winnings, plus the aggregate value of the Coins released by the Treasure Box.


Coins of Egypt : Wild Symbol
Occasionally, an image of a gold ornament with Scarab motif, emerges. This element is valuable because it represents the Wild Symbol that can act as substitute, but only for regular-paying icons.
Since Scarab Wilds may land on any reel, a convergence of the gold ornament along a paying line, also garners a payline reward. That is, if the alignment of Scarab Wilds, starts from the leftmost reel. A set of 3, 4 or 5 Scarab Ornaments aligning as winning Wild combination, correspondingly yields 50, 300 or 3000 win credits
Coins of Egypt Online Slot: Pharaoh Coins Win
Pharaoh Coins emerge as values affixed on a random symbols positioned in Reels 1,2 and/or 3. Any and every spin may produce 1 up to 3 Coin Values.
Base Game Pharaoh Coins
Every Coin Value currently in view can be claimed only if a Pharaoh COLLECT icon emerges in Reel 5. At this stage, amounts offered as potential Pharaoh Coins Winnings range between 2x and 15x the current Bet. Regardless of positions in which Coin Values appeared, the equivalent cash prize will be added to payline winnings achieved, when the COLLECT Symbol appeared.
Free-Spins Pharaoh Coins
Free-Spin Coin Values depend on the Treasure Chest that unlocks. Actually, the values of each Pharaoh Coin depends on the reel in which they appeared.
Mainly because each reel produces a Pharaoh Coin to store in a particular type of Treasure Chest. The types are distinguished by way of a Ruby Eagle Seal, an Emerald Snake Seal and a Golden Cat Seal. The chest types also determines the range of cash values carried by Pharaoh Coins.
Reel 1 Coin Values go to the first Treasure Box, which is the Ruby Eagle Chest. Cash equivalents carried by Pharaoh Coins emerging in this reel, are between 2x and 4x the Bet at the time the Bonus Round activated.
Reel 2 Coin Values are stored in the second Treasure Box, which is the Emerald Snake Chest. Here, cash values stored are from 2x up to 5x the current Bet.
Reel 3 Coin Values transfer to the Golden Cat Chest; with cash values ranging between 4x and 10x time the current Bet.
Once a type of collectable Seal icon attains completion, its related Treasure Chest unlocks and releases the contents as supplementary bonus winnings.
Coins of Egypt : Free-Spins Round
Free-Spins Scatter Symbols emerge only in Reels 1, 3 and/ or 5. When all 3 designated reels display a Scatter icon as outcomes of a paid spin, the bonus round sets off. Reels spin at no cost for an indefinite period; as Coins of Egypt bonus players need to complete a Seal Collection in order to conclude a round.
Seal Collection Feature – Every Ruby Eagle, Emerald Snake and Golden Cat Seal, emerging as outcome of a bonus spin, works toward the unlocking of a corresponding Treasure Box. Each bonus spin though produces one type of seal, which will appear only in Reel 5.
Pay attention to the sets of empty sockets beneath the slot screen, as each set serves as container for Seals collected. The first set of sockets to fill with the related Seal Symbols, will then unlock the corresponding Treasure Chest located at the top of the slot screen.
Completing any one of 3 Seal Collections signals the completion of the Bonus Round. The cash equivalent of all Pharaoh Coins held by the unlocked coin box, will be added to the total payline winnings gained from all free-spins played.