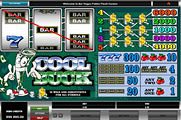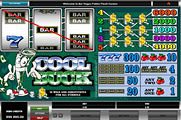 Cool Buck is a three-reel online slot game that is brought to you courtesy of Microgaming. The game is themed around a one dollar bill, this is why the game is entitled Cool Buck. This One Dollar Bill will do its best in order to help you get paid. What you have to do is place a bet and spin the reels and watch as the symbols spin hoping for a winning combo to be achieved on the lines of the game.
The game offers players three exciting reels that have a total of 5 lines spread on them. The symbols that will spin on these reels include the dollar sign, the usual black and white bar symbols with a yellow outlining (1 bar, 2 bar and 3 bar), cherries and light blue sevens.

Players will have to match certain symbols on the winning lines in order to be able to claim a payout. Players can see all of the payouts that they can claim through Cool Buck at the paytable of the game. This paytable can be found on the right side of the screen and it shows the game's icons and how they correlate to winning payouts. The game also has a wild symbol, which is the golden dollar sign. This sign is going to replace other icons on the reels and lines of the game in order to help players get paid by forming a winning combo.
As for the bets, players can place them before they start spinning the reels at the bottom. They will choose how many lines they want to play on as well as the value of the coins. The jackpot of the game is given to players who manage to get 3x yellow dollar signs on the same bet line. Since players can place up to 5 coins in bets, there are 5 jackpot pays, and of course, the highest payout is earned whenever players manage to get these 3 symbols while placing the max bet.
In conclusion, Cool Buck is a classic 3 reeled slot machine that offers players a classic and a entertaining gaming ride that is nostalgic and fun at the same time. The game is themed around a one dollar bill that can cause players to win many prizes and rewards as they play the game. Players will just need to place a bet and spin the reels so they can start enjoying the wonderful experience that this game has to offer them.