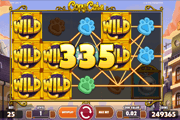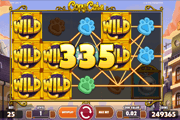 Copy Cats Online Slot : Stacked Symbols Including Wilds, Trigger Image Replication Feature
Copy Cats online slot presents four (4) colorful Cat animations that may land as stack of 3 identical images in a single reel. Developer NetEnt uses those Stacked Symbols in triggering an innovative, win-boosting mechanism that replicates the stacked images in all other reels. The great news is that one of those Cat images is a Wild Symbol, which all the more increases possibilities of reaping great returns via multiple winning payline combinations.
The Red, Pink, and Blue Cat cartoon images are the top-paying symbols. The Big Red Cat brings the biggest snatch. It awards 25, 100, or 200 coin credits on a 3, 4, or 5 symbol-grouping of Red Cat icons in any of 25 win-lines. The Pink and the Blue Cat totems award pays ranging from 15 to 150 on payline wins. Copy Cats reel elements that bring medium wins ranging from 10 to 75 on three or more matched groupings, are images of a Toy Mouse, a Milk Carton, and a Fishbone. Four (4) paw prints in varying colors represent the low-win but frequently emerging icons; uniformly paying coin wins ranging from 5 to 25. However, only the longest arrangement occurring in each pay line garners a corresponding reward.


Copy Cats Online Slot: Symbol-Replication Feature
The copycat theme is aptly depicted through the symbol replication actions that occur during the Copy Cat Feature. A stack of identical symbols that takes position on Reel 1 triggers the feature. All feline totems occurring in the rest of the reels (Reels 2, 3, 4, and 5) will be replaced with images of the Stacked Cat Symbol in Reel 1. The replication actions therefore create multiple identical images that could likely result to several winning combinations via a single spin.
A more advantageous turn out is when a Stack of Wilds triggers the Copy Cat feature, as such an event all the more increases possibilities of hitting big wins. After all, every Wild Symbol in view is capable of representing regular-paying images for purposes of completing a winning payline arrangement.
Once all wins have been appraised and awarded, the replaced cat images will return to their respective position before the next spin launches.
Copy Cats Online Slot: Wild Symbol
An image of a Tawny Cat appears with a WILD signage as reel element. Although the Tawny Cat Wild is configured to appear in any column or row, it can only form payline wins by combining with one-of-a-kind images of regular-paying icons.
The Tawny Cat Wild could also trigger the Copy Cat Feature by appearing as Stacked Symbols in Reel 1. The replication of multiple Wild Symbols in other reels gives player greater edge in landing bigger wins. More so, during the Free Games in which all rewards are gained by way of bet-free spins.
Copy Cats Online Slot: Free Games
A Cat Bell image represents the symbol that can trigger a round of free games. The icon comes into view only in Reels 1, 3, and/or 5. If by chance all three (3) reels return after a paid or bonus spin with at least one Cat Bell image in each column, a round of 10 free-spins will be awarded, or retriggered.
Bonus spins can still generate outcomes with a display of Stacked Symbols in Reel 1, still capable of setting off the Copy Cats symbol-replication feature.