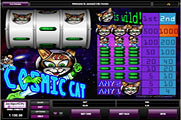 Cosmic Cat Free Slot
The Cosmic Cat is not your ordinary house cat that sleeps, eats and does nothing around the house. The Cosmic Cat is an adventurous cat astronaut who loves to explore the universe and loves to travel in outer space. Microgaming invites you to be the company of the Cosmic Cat and its arch enemy, the mouse, in its adventures around the universe where you will get to claim your share of any fortune and treasures found in space and on alien planets.
A Traditional Microgaming Free slot
Comic Cat is a traditional Microgaming slot machine that has three reels that can be found on the left side of the game's screen with one middle winning line on which players will have to create a winning combo so they can get paid. The payouts are listed on the right side, it is where players will see all of the possible winning combos that can land on the payline of the game and their respective payouts, whether players have placed 1 coin or 2 coins. This is why the paytable of the game has 2 columns, one for each betting level. Speaking of bets, they can be placed under the reels at the control panel. Players will click on the "Bet One" button to place 1 or 2 coins and will click on the + and the – symbols in order to determine the value of the coins they want to use.
The symbols that will appear on the reels of the game include futuristic looking green bar symbols, the Cosmic Cat and a small mouse wearing an astronaut helmet. The highest paying symbol of them all is none other than the Cosmic Cat. The Cosmic Cat will give players 500 coins and 1000 coins if they get three cosmic cat symbols on the line of the game after placing 1 coin or 2 coins respectively. That is not all, players do not even have to get three cosmic cat symbols to get paid as they will get paid for getting one cosmic cat, they will get paid 2 or 4 coins and if they get 2 cosmic cats on the payline of the game, they will earn 5 or 10 coins. On top of all of that, the Cosmic Cat symbol is a wild icon that will replace all other icons to form a better and a higher paying combo of symbols on the winning line of the slot machine.