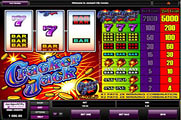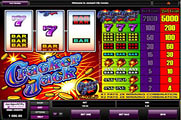 Cracker Jack Slots For Fun
Who does not enjoy fireworks, the answer is no one. This is because we all love to fire up these fireworks and watch them as they explode in the air and giving us beautiful shapes made of light in the sky. So if you love fireworks, then this is the slot machine you are looking for, this is why it is conveniently named after the most popular firework there is, Cracker Jack. So light it up, place your bets and spin the reels so you can start earning the great rewards that the game has to offer you.
Slots for Fun with an Explosive Theme
Since the game is themed around fireworks, players will see the logo of the game on top of exploding fireworks under the reels on the left side. This theme would also affect the symbols that land on the reels of the game as they include exploding fireworks, bar symbols that come in three different colors, purple sevens and the Cracker Jack logo of the slot machine. These symbols would land on the 3 reels of the game and the one single payline that is found in the middle of these reels. Players would have to get winning combos of symbols on this payline so they can grab an award.
The different awards that the game has in store can be found at the paytable which is located on the right side of the reels. It would show players the different symbols and their payouts. Usually, players would need to get 3 matching symbols on the payline so they can get paid. The only symbol that does not require that is the exploding fire work symbol, this is because when 1 or 2 symbols land on the reels, players would get pad. They will get awarded 2 or 4 coins and 3 or 6 coins when 1 or 2 symbols land on the payline. Also, if any three bar symbols land on the payline, players will get paid 10 or 20 coins.
The highest award is given to players who get three Cracker Jack logo of the game on the payline of the game, they will get to earn a payout of 2000 and 5000 coins. It depends on the number of coins that they have placed as they can choose to place 1 coin or 2 coins. The logo is also a wild multiplier that will substitute for any other icons while multiplying the payouts by 2x or 4x.