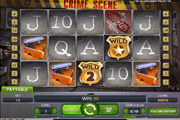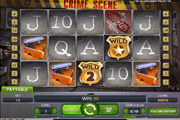 Crime Scene an Electrifying Whodunit-Themed Online Slot from Net Entertainment
Crime Scene is a video slot with fifteen (15) fixed-payline selection, conceptualized by Net Entertainment as a crime investigation engagement. Slot players assume the role of forensic investigators about to collect evidence in a back alley murder scene. Notice the images displayed in the five-reel slot presentation showing a metal briefcase containing onsite forensic tools, a handgun, an ultraviolet fingerprint scanner, a protective eyewear, and a footprint. Those are the high-paying symbols that have greater payout equivalents than the A, K, Q, J and 10 icons.
[/CBC]
To make the Crime Scene investigation theme exciting as a slot play, Net Entertainment added Sticky Wild Symbols and a Bonus Game.
The Crime Scene Badge Sticky Wild Symbol
To give slot players the authority to scour the area for bits and pieces of evidence, a symbol of a Badge icon comes into view from time to time. The Badge also serves as the Wild icon to help players form matched payline wins.
Net Entertainment though gave Crime Scene a Sticky Wild as win-boosting attribute. It stays fixated in its position for a specific number of spins. The number appearing on the Badge icon indicates the number of spins, from one (1) up to five (5) turns.
More of Sticky Wilds could appear on the succeeding spins. This denotes that Crime Scene players could have multiple guaranteed Wilds appearing as outcome of every paid spin. If more than one Sticky Wild emerges simultaneously, the spin countdown starts simultaneously as well.
Another great feature of the Crime Scene Sticky Wild is that, all payline wins achieved through Wild substitution actions pay twice (2x) the payout value of the matched symbol.
The Crime Scene Crime Lab Bonus Game
In this Net Entertainment slot, the set of Fingerprints lifted from the area is the Bonus Game activator. Three (3) or more of such symbols that come into view anywhere across the reels, give players access to the Crime Lab Bonus Game.
The round is actually a mini-Pick Me Game in which slot players are presented with thirty (30) folders. Each folder has hidden coin rewards or four (4) sets of fingerprints that can be used as additional evidence. Each coin prize unraveled is for a bonus player to keep as extra winnings.
Unraveling a Fingerprint spells greater bonus wins, because whatever coin value revealed by that Fingerprint Evidence will be added to the coin value of the succeeding Pick Me rewards. If another set of Fingerprints is discovered, the coin value of that particular revelation serves as the next increment.
However, clicking on a folder that reveals a Red X ends the Crime Scene Bonus Game. Not unless a player was able to unravel a Green V Second Chance symbol before the Red X appeared, as the V Second Chance sign allows the player to continue with the Pick Me Game.
At the end of the Bonus Game, players are given additional options for increasing the extra wins amassed, with etiher a 2x multiplier or additional mystery coin rewards.