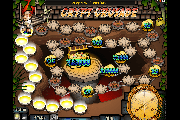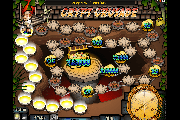 Crypt Crusade by Quickfire, a Real Money Arcade-Style Game
Crypt Crusade by Quickfire is an instant-win board game that sets players on a treasure hunt adventure inside an ancient crypt. Presumably, the underground burial chamber belongs to an Egyptian royalty since there is a mummy guarding the gold coins inside the crypt.
The game is simple and comes on like a mini game; a bit similar to a featured bonus game of an online slot. Quickfire created it in a way that a Crypt Crusade player takes on the role of an archaeologist exploring the inside of the burial vault. The crypt-theme may sound a bit morbid but Quickfire used arcade-style cartoon animation, to give the game a fun appearance.

The Crypt Crusade Quickfire Game Play
Each round of a Quickfire Crypt Crusade game consists of eight spins, and each spin activates a number meter. The meter determines by how many steps the archaeologist advances. However, it would be best for a player to turn the Turbo option on, in order to run the Quickfire Crypt Crusade game at a faster pace.
The Crypt Crusade by Quickfire presents a board with a path that the archaeologist must follow during his exploration. The path is made up of slabs arranged in a circular pattern, going toward the middle where the Treasure Chest lies on the large octagon-shaped slab.
If the archaeologist lands on an unmarked slab, he can proceed with the next spin and take the next steps indicated on the number meter. If he unfortunately lands on a slab marked with the "skull and bones" symbol, it means the Crypt Crusade game is over. Quickfire added a touch of humor in indicating that the archaeologist met his untimely demise — a tombstone marks the spot in which the archaeologist fell.
The best spin result is one that gives the right number of steps, which the Crypt Crusade explorer will take in order to land on a slab that contains gold coins. Those spots are rewarding because they have multipliers that apply to the payout once the game ends. As the Crypt Crusade by Quickfire virtual board game is also a game of chance, the game's payout will be based on the last or highest multiplier landed on by the archaeologist.
Evading the death slabs is possible but it is also important to reach the highest-paying multipliers, before all eight spins run out. The further the Crypt Crusade archaeologist gets, the higher the multipliers, as those start out with x2 as the lowest. They increase gradually to x3, x5, and x7 in the outer circle, while the inner circle has higher multipliers, starting with x15, x40, x1000, and x10000. The final destination, which is the center slab that has a chest filled with gold coins, contains the top prize of x25000 multiplier.
Quickfire definitely built Crypt Crusade with the recreational gambler in mind, as the game scores high in terms of entertainment.