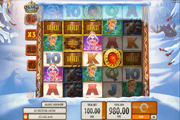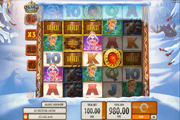 Crystal Queen Online Slot – Unlock 3 Extra Rows with Progressive Win Multipliers
Crystal Queen is a 5-reel, online slot that makes use of the mythical Snow Queen in presenting its unique offering of 3 additional rows. Moreover, Quickspin enhanced the entire 6-row, 5-column configuration with win-boosting elements to help players optimise every spin.
This feature-rich online slot initialises the base game with 20 paylines, to potentially progress to up to 56 in all, if players succeed in activating the three (3) extra rows of 12 paylines. Special game features such as Swooping Reels, Spreading Wilds, Progressive Win Multipliers and a Free-Spins Bonus Round that pays both ways for matched symbol combinations help players reap great rewards for completing matched symbols groupings.
[/CBC]

Crystal Queen Online Slot Swooping Reels Mechanism
During base game spins, Crystal Queen slot players must aim to land on three or more matched-symbol groupings in any payline. This is because every win triggers the Swooping Reels mechanism that is programmed to launch a respin-like occurrence. Winning symbols disappear from out of the reels, creating gaps into which new and existing icons from above, lodge into new positions.
If the fresh set-up forms new payline wins, the disappearing and swooping symbol occurrence continues. The Swooping Reels feature deactivates temporarily, if no payline win was created by the new reel outcome.
The respin-like actions of the Swooping Reels mechanism bring, not only bet-free wins, but also unlocks the 4th, 5th, and 6th rows and their related Win Multiplier, in the following order:
• First Swooping Reels Win unlocks the 4th Row and a 2x Win Multiplier
• Second Consecutive Swooping Reels Win unlocks the 5th Row and a 3x Multiplier
• Third Consecutive Swooping Reels Win unlocks the 6th Row and a 5x Multiplier
To make it easy for Crystal Queen players to land on payline wins that would keep the Swooping Reels feature active, Quickspin added not just an ordinary Wild Symbols but a Spreading Wild to boot.
Crystal Queen Online Slot Regular Wild and Spreading Wild Symbols
This Quickspin slot's Regular Wild Symbol emerges on Reels 4 and/or 5 as results of base game spins. Yet in the Free-Spins Round, Regular Wilds may appear on Reels 1, 2, 4, and/or 5. Moreover, landing on 3, 4, or 5 Regular Wilds in any payline, bestow coin rewards of 25, 75, or 250, accordingly.
The Spreading Wild is a special element of the Crystal Queen slot that can bring an abundance of Regular Wild icons to help players create multiple and top paying wins. It tends to appear on columns 1, 2 or 3 after base game spins and in Reels 2, 3 or 4 after bonus game spins.
When a Spreading Wild emerges as outcome of a paid or free spin, it embellishes the reels with Extra Wild Symbols spread in adjacent but random positions in Wild-designated areas. Wild Symbols numbering from one (1) up to five (5) would mushroom around the Spreading Wild, therefore heightening a slot player's chances of hitting Big Wins with just one spin. More so in the Free-Spins Round, since the bonus game will be played in all 6-row, 5-reel configuration starting with the very first bet-free spin.
Crystal Queen Online Slot Free-Spins Bonus Round
The bonus round is activated by three or more of the Bonus Game Symbol represented by a Medallion-like object. Players who succeed in activating the free round receive ten (10) bonus spins. The round could prove to be very rewarding as this Crystal Queen Bonus Game pays both ways. A pay-both-ways reward system denotes that winning matched-symbol combinations may originate from the leftmost or from the rightmost reel.