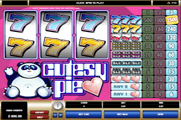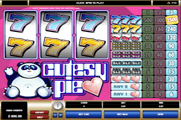 Cutesy Pie Free Slots Review
Who doesn't love a cute and cuddly panda bear, especially when he is the key ingredient in helping you win money? Cutesy Pie, is a sweet new take on a three reel slots from Microgaming. While Cutesy Pie doesn't show up on any reels himself, there are plenty of hearts bearing "I love you" to make up for it. On the other hand, this cute and lovely and cuddly panda is going to appear right under the 3 spinning reels of the game to give players all of the moral and friendly support that they may need during the game play.
Cutesy Pie has no bells and whistles when it comes to extras. You get 3 reels, one payline and that's it. There's something about games that really rely on nothing more than sheer luck to get your adrenaline pumping. Cutesy Pie definitely fits that bill, despite the chubby little panda that smiles and waves at you the whole time. And there are bells and whistles in the background as sound effects, but that doesn't really help you out in any way. What can really help are the symbols that are going to be landing on the reels, as if they get matched, they will reward players greatly. Players will be able to see all what these symbols can give them in rewards on the right side, where the paytable is. It shows players the different rewards that these hearts a and sevens can give, depending on the betting level. this is because the game has three betting levels, one coin, 2 coins or 3 coins. Of course, the biggest jackpot is paid when players have placed the max bet of 3 coins and get 3 blue sevens on the line.

The only thing that you can really control on this slot is how many coins you bet. One is of course the minimum, and a mere three is the max. The only thing this changes is how much you when if you do hit on the payline. Just keep your eyes out for the three different BAR symbols (1, 2 or 3 of them) as well as the blue and gold 7's. Three blue sevens will land you the biggest jackpot, but even any number of hearts will win you something. Any kind of win is great, even if it's just enough to match your bet. That still counts as a win, even if you just break even!