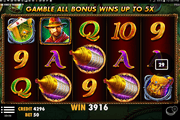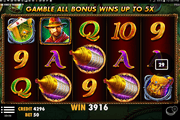 Da Vinci's Treasure Online Slot: Offers 3 Bonus Game Features to Randomly Select
Da Vinci's Treasure online slot by Pragmatic Play explores the adventures of John Hunter by way of a 25-payline game. Hitting 3 Bonus Symbols simultaneously with a single spin gives players a chance to join John Hunter in one of 3 rewarding adventures. Tag along in a Map Quest and collect instant coin-wins; or select an artwork to win a guaranteed bonus prize. A more challenging, and perhaps the most rewarding escapade, is a Free-Spins Bonus Round that increases bonus wins progressively.
While spinning one's way to the bonus portal, aim to collect payouts by hitting one-a-kind combinations in any payline. Chances of achieving this mission get a boost from Da Vinci's Wild images. This icon though emerges only in Reels 2, 3, 4 and/or 5. Still, a Da Vinci Wild in Reel 2 aligning with a John Hunter, a Book, or a Satchel image in Reel 1, already completes a paying combo. After all, the three elements award a payout on as few as 2 alike images, occurring in the first 2 positions of a paying line.


Hit pay dirt with John Hunter's icons, the reel element with the highest range of payouts. Occurrences in a payline of two, three, four or five of Hunter images, garner a corresponding reward of 10, 50, 200 or 800 coin credits.
Da Vinci's Treasure Online Slot: Bonus Game Adventures
A cylindrical contraption, presumably one of Da Vinci's inventions, represent the Bonus Game trigger icon. Emerging only in Reels 2, 3 and 4, the device serves as key to one of three bonus game adventures.
When the image occurs altogether in all designated reels, the resulting 3-symbol combo unlocks a larger version of the contraption. It contains a display of the 3 Bonus Game titles, whilst spinning them in order to randomly select and unlock any of the following:
Prize Picker
A Bonus Feature that presents 3 of DaVinci's famous oil paintings. Players need only to select one to reveal and instantly collect coin credits. The number of credit rewards revealed by each painting depends on the value of the current Bet Value. The higher the amount staked on the spin that triggered the bonus game, the greater the range of mystery prizes in store.
Map Quest
This is a trail game in which players help John Hunter reach a manor in the fastest way possible. Trail advancements are determined by way of a mini-wheel displaying 1, 2, 3, 4, 5 and a Game Over prompt. The numerals represent the number of steps that John Hunter takes to complete 23 value-spots. Each spot has a bonus prize that increases in value; denoting that value-spots farthest from the starting point award greater bonuses.
If John Hunter reaches the manor, Da Vinci's Treasure players receive the highest prize. A Game Over prompt though instantly ends the quest for greater rewards. Still, players can collect whatever value revealed by the spot last reached by John Hunter.
Free-Spins with Progressive Multiplier
This bonus adventure awards 12 Free-Spins as initial bonus. After every spin, the natural 1x win-multiplier value increases by 1. During the round, free-spin wins increase based on the current win-multiplier, up to 12x at the most.
The great news is that if a bonus spin lands another 3-symbol Bonus Combo, the game automatically extends the free round. Another set of 12 free-spins will be awarded, whilst allowing the win-multiplier to continue with its value progression. Da Vinci's Treasure Game Info states that a single bonus round may award up to 60 Free-Spins.