User Rating: Be the first one!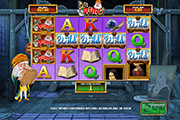 Da Winci Online Slot: Bonus Wheel Awards Reel Bonuses or Free-Spins Round
Da Winci online slot by Inspired Games plays on reels in which random reel modifiers occur to ensure payline wins. The titular cartoon character Da Winci takes inspiration from renowned Renaissance Genius Leonardo da Vinci; using ingenuity and painting skills in enhancing the reels. At some point, Da Winci's thought bubble appears, indicating that the cartoon Maestro is about to carry out a task or activate one of his inventions.
Da Winci may decide to take up his Paintbrush, or bring out an Armoured Tank, a Cannon, or an Aerial Screw. Except for the Paintbrush, a projection of one of those images sets off a Reel Modifier that will improve the forthcoming outcome of a related spin.
The Paintbrush on the other hand, is instrumental in completing Da Winci's Mona Lisa painting. Once the amusing artwork is complete, the Bonus Wheel activates. The latter awards either a Reel Modifier or a round of Free Games as bonus prize.
Da Winci Online Slot: Random Reel Modifiers
The Aerial Screw, the Armoured Tank and the Cannon are contraptions that can do wonders to the outcomes of an ongoing spin.
The Aerial Screw whips up a force strong enough to dislodge icons from their current reel positions. Thereafter, the symbols shuffle before descending, taking up new reel positions guaranteed to produce a 5-of-a-kind win.
The Cannon is a crude but powerful 5-barrel device that shoots out Wild Symbols on each reel. Again, the outcome is certain to result to at least one winning payline combination.
The Armoured Tank also expels firepower but one that produces alike Portraits as means of ensuring that the related spin-outcome produces a high-value win.
The three reel modifiers appear at random during any ongoing paid spin, and may also come around when awarded as a Bonus Wheel prize.
Da Winci Online Slot: Mona Lisa/ Paintbrush Bonus Feature
Take notice of the unfinished Mona Lisa portrait on the right side of the base game screen. Once in a while, Da Winci's thought bubble will settle on a Paintbrush image. During an ongoing spin, the game's titular inventor will use the brush to fill up some of unfinished segments of the portrait.
However, he tends to procrastinate, as he will not finish the artwork in one sitting. Actually, it will take several Paintbrush thoughts before Da Winci's Mona Lisa attains completion.
Once completed, the Bonus Wheel activates. The spin outcome related to the final Paintbrush stroke will await the result of the Bonus Wheel event. After all, the Bonus Wheel may award a Reel Modifier that could change the current array of symbols.
Da Winci Online Slot: Bonus Wheel Feature
The prize indicator of the Bonus Wheel may land on an Aerial Screw, a Cannon or a Tank prize wedge. This means that any of those Reel Modifiers, if awarded, will change the outcome of the related spin.
Yet the prize indicator may also land on the Free-Spins prize. Such an occurrence gives players greater winning edge, as they will be able to collect additional payouts from a round of free games.
Chances of winning a free round increase every time the Bonus Wheel awards a Reel Modifier as bonus prize. The wheel segment corresponding to the awarded modifier, will replace the icon with a Free-Spins tag. This denotes that on the next Bonus Wheel activation, more Free Spins segments are on display as potential bonus reward.
Da Winci Online Slot: Free Games
The Free-Spins Bonus Round may also activate by way of the Da Winci Bonus Symbol. The icon though emerges only in Reels 2, 3, and/or 4. In the event all three reels return after a spin with a Bonus icon in place, an indefinite number of free-spins will come into play. Still, the duration of the bonus bout lasts in conjunction with Parachuting Wilds.
Parachuting Wilds – The bet-free turns run on a bonus grid in which Wild Symbols parachute down, and land on random positions. The Wilds linger but will shift one position lower, until they are no longer visible. Yet more Wild Symbols may land, as every Bonus Symbol occurring as outcome will bring on additional Parachuting Wilds.
The Bonus Round ends once all Parachuting Wilds have disappeared.
Da Winci : Amusing Inventions Bring Guaranteed Payline Wins!
Da Winci online slot is an amusing cartoon presentation of a Da Vinci wannabe who uses his portrait painting skills and inventiveness in modifying the reels of an ongoing spin. Occurring as random reel modifiers or as regular Bonus Round feature, the modifiers ensure that the forthcoming outcome will bring guaranteed payline wins.