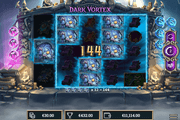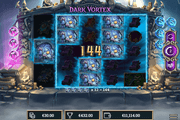 Dark Vortex Online Slot: Vortex Reels Increase Number of Pay-Both-Way Win Ways
Dark Vortex online slot is an Yggdrasil Gaming 5-reel play, to earn payouts on matched images that align in consecutive reels. A winning arrangement does not have to follow a pay pattern, and may line up starting either from the leftmost or rightmost reel. Ordinarily, each reel presents a stack of 3 symbols to connect with alike icons emerging in adjacent reels. A set of 3 or more, is a win but only the longest one-a-kind combination occurring in a winning line.
Occasionally, Wild Symbols may appear n Reels 2, 3 and 4. Configured as Stacked Symbols that pose as substitute icons, a portion or a full-reet stack of Wilds in view, greatly increases chances of completing multiple win ways.
This game's most important elements are the golden Vortex Symbols, as they can set off an event that will modify the reels in which they appeared. Two Vortex (2) Symbols taking positions in 2 adjacent reels, initialise transformation of their respective columns. The pair of Vortex Reels connects, and at the same time, expands with 5 layers of icons. Expansion of reels likewise increases the number of ways by which matched symbols may form winning combos. The greater significance of this event is the awarding of 3 Respins that may result to activations of additional Vortex Reels.
If during Respins, all five (5) columns turn into Vortex Reels, the game advances to the Free- Spins Stage.


Dark Vortex Online Slot: Vortex Reels Respins
Activating two (2) Vortex Reels sets off 3 Respins. If a Respin yields Vortex Symbols in one or more columns adjacent to the Vortex Reels, the Respin Feature extends. Two (2) additional free rolls for every new Vortex Symbol, will be added to the remaining Respins.
The Vortex Reels revert to the standard 3×5, 243 win-ways grid once all Respins have played. Not unless, all 5 Reels transformed into Vortex Reels before the free rolls ended. At that point, a round of Free-Spins will set off using all 5 Vortex Reels as play area. The number of win-ways available for bonus spins, will reach a total of 3,125.
Vortex Reels Orb Collection Feature
Upon activation of the Vortex Reels, a corollary Orb Collection will likewise be awarded as part of the Respin Feature. At the onset, 2 Pink Orbs and 5 Blue Orbs will be awarded as starter sets.
During free turns, Pink and Blue Orbs that land on Specific Vortex Reels increase the related Orb Collection. Orb icons collected will then determine the density of Stack Wilds (Pink Orbs) and the number of Free-Spins (Blue Orbs) composing a Free-Spins Round that a player will potentially activate.
Pink Orbs
Collecting this element improves chances of playing on Free-Spins Vortex Reels enhanced with multiple Stacked Wilds. Pink Orbs though, emerge only in Vortex Reels activated in Reels 1 and/or 5. Every Pink Orb collected will enhance the Free Spins Vortex Reels with one (1) Wild Reel.
Blue Orbs
The number of Blue Orbs collected during Vortex Respins, determines the number of Free-Spins awarded if the game advances to the free stage. Each Blue Orb comprising the collection, contributes one (1) Free-Spin; denoting that the greater the number of Blue Orbs added to the starter set, the longer the duration of a future Vortex Reels Free-Spins. During Respins, Blue Orbs emerge in Vortex Reels 2, 3 and/or 4.
Now if Vortex Respins fail to complete a 5-reel Vortex grid, the game simply reverts to wagered base game spins; whilst discarding any Pink and Blue Orbs collected during free rolls.
Dark Vortex Online Slot: Vortex Free-Spins Round
Once a series of Vortex Respins transforms all 5 reels into Vortex Reels, the game levels up as a Vortex Free-Spins Round. All Stacked Wilds contributed by the Pink Orb collection will be added to the center reels of the 5×5 Vortex Grid. The number of Free-Spins collected via Blue Orbs, will then comprise the bonus round. A total of 3,125 win-ways will be available as potential combinations that alike icons can complete, in order to garner bonus pays.