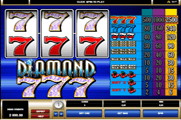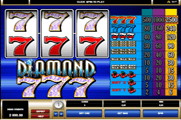 Diamond 7s is one of those slot games that you would expect to see in one of the first casinos that offered slot machines. You won't find any fancy themes, or really any fancy graphics either. This game sticks strictly to the basics: bars, sevens and cherries. In fact, even the name and logo would fit in perfectly in to any of the original slots. Through the visuals of the game as well as the format help create a classic and a nostalgic gaming experience that will bring memories back, as it resembles the traditional fruit machines that players used to enjoy in the old days.
If you are one of those purists that doesn't like any of those fancy or weirdly themed games with all kinds of bonus and extra games and such, Diamond 777 is one you will surely like. There are no multipliers, no scatter symbols, no wilds or bonus games, and only a small jackpot. Just like other slots that only have three reels, there is only one pay line as well. While that may seem like it's harder to make any sort of a good profit, well, it is more challenging, but if it were easy they wouldn't call it gambling, no would they?

You don't need any sort of complex graph to know when you've one either. Get any cherry symbol, you win. Get 2 or 3 cherry symbols, win more. Get any combination of bar symbols, you win. Get any three of the same bar symbols, you win. Get any red or diamond sevens, you win. Get three sevens you win even more. All three of them are red? That's a hefty chunk of change! All three of them sparkle like diamonds? And you bet the max? Congratulations! You've won the jackpot! Simple enough, right? Good luck! The different winning combos and their rewards can be seen at all times on the right side of the reels as a part of the paytable of the game. It shows players what they are going to claim in rewards whenever they manage to match icons across the payline of the slot machine. This paytable has three columns, each column shows players the payouts that they will get depending on the betting level, as players can place 1 coin, 2 coins or 3 coins in bets. Of course, the higher the coin bet, the higher the payouts that players will get when they match the symbol.