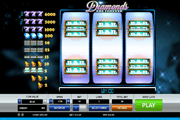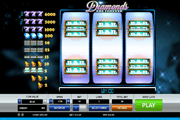 Diamonds are Forever : 3-Reel, 3-Line Classic Style Slot with Wild Symbol
Diamonds are Forever is a traditional 3-reel classic style slot with 3 win lines. Created by Pragmatic Play as real-money gambling entertainment, this game features the 7 icon as Wild that can substitute for other reel elements.
The Diamond totem is the highest paying of all regular symbols, awarding 200 coin credits on a 3-symbol combo in any win line. The BAR-BAR-BAR, the BAR-BAR and the BAR confer 50, 25, or 15 coin credits for every 3 identical BAR images. Any BAR variant combining as a 3-symbol grouping, also earns players five (5) coin credits. The Bell image, is the only reel element that rewards players on any number occurring as outcome of a spin. One, two, or three Bell icons in any reel position, correspondingly award coin credits of 2, 3, or 10.


Diamonds are Forever Online Slot: Wild Symbol
The 7 Symbol not only functions as a joker card that can substitute for other symbols as means of completing a 3-symbol arrangement. It can also form winning combinations, and has potential to emerge and create one of more line wins with just a single spin.
Three 7 icons forming a single win awards 1000 coins. The pay increases if after a spin, the reels return with 2 sets of 7-7-7 combos. Two lines displaying a 3-symbol 7 combo in a single instance collectively awards 3000 coins. More so if the entire, 3-row x 3-column slot configuration, is filled with 7 Wilds, because the occurrence will bring a lucky player as many as 6000 coin wins!
Diamonds are Forever Online Slot: Betting Options
All coin credits received as winnings are multiplied by the amount staked per line. The higher the amount wagered per line, the greater the win equivalent. Although higher bet amounts do not necessarily increase odds of winning from matched-symbol line wins, high stakes present greater benefits when multiple line wins occur as single-spin outcomes. Since the game features a Wild Symbol which, when aligned in a payline with identical symbols completes a winning combo, multiple 7 Wilds occurring simultaneously makes multiple wins a likely possibility.
A Line Bet may be staked on one, two or all three paylines. The value of a Line Bet depends on the coin value selected by a Diamonds are Forever player, which is anywhere between 0.01 and 0.50. To further increase or decrease the amount wagered per line, the stake may be modified by placing more than 1, or even up to 10 coins as Line Bet. Players should keep in mind that the Line Bet staked on the spin that produced the win, multiplies all coin credits received as winnings; including those arising from 7 Wild combinations.
The Total Bet on the other hand, is the wager covering the number of lines activated. The lowest Total Bet to place as wager per spin is 0.01 (0.01 x 1 coin x 1 pay line), while the highest Total Bet configuration is 15.00 (0.50 x 10 coins x 3 paylines.)