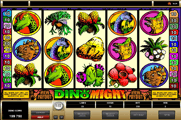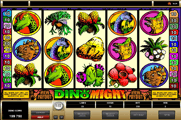 Dinosaurs may be extinct, but this new video slot is far from it! Dino Might, a five reel video slot from Microgaming, brings these ancient reptiles back to life. Don't worry, this won't end up like any of the Jurassic Park films. They only thing that dies in this game may be your budget for playing slots, after you see how much fun it is!
The graphics on this game are a little bright. There is a lot of green used, but that wasn't very surprising. Sure, dinosaurs may have been pink and purple polka-dotted, or even striped, but we'll never know so we default to green for most of them. There's lots of vegetation present as well to help fill in the graphic area, which doesn't help with the amount of green going on. The good news is that the color choices do not affect how the game plays, and the brightness on your screen can be adjusted to help with the glare. The graphics can be turned on or off too, but I kind of liked them. The nature sounds and occasional roaring of a dinosaur in the background really tied in with the theme nicely, and wasn't annoying at all. All of this results in a one of a kind gaming experience that is fun, exciting and immersing for players, as it helps transfer players into the theme of the game as they travel to the pre-historic ages with these dinosaurs.
Players will not only enjoy an immersive and a fun game, as they will also enjoy a highly rewarding gaming experience that has a lot to offer to then. These great payouts can be earned whether through the formation of matching icons across the lines of the game, or with the help of the special icons of the game and its bonuses. Players can get to know all about these special features here, as well as in more details at the paytable of the game.


This game has 25 paylines, a good amount for a win, as well as scatters, multipliers, wilds, and bonus games. No free spins on this one, but the fact that there are 2 bonus games instead of just one make up for it. The maximum bet, which gives you the chance to win the highest jackpot available, is $125, which may make this game more appealing to high rollers rather than those with a strict gambling budget.