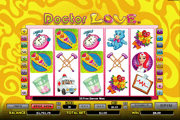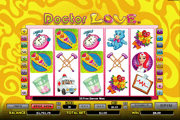 DoctorLove a Fun Cartoon-Based Online Slot Loaded with Reward Boosters
DoctorLove by Microgaming is a cartoon-based online slot game carrying love-inspired icons in its five-reel, twenty-payline game presentation. Visually appealing in its clean and uncluttered appearance, this slot has reward-boosting features that make real money gaming a worthwhile and entertaining experience.
The DoctorLove Wild Symbol
Say "Hi!" to the golden-haired and beaming image of Doctor Love, as it is the Wild Symbol that offers fast acting icon-substitution remedies for completing regular icon payline-combinations. In addition to increasing the likelihood of hitting payline wins at every spin, landing on one or more Wild Symbols on any active payline generates additional coin rewards. Getting five of those Wilds on a live payline will bring as many as 5,000 coins as extra payline wins.

The Love Meter Scatter Symbol
Doctor Love's beaming smile could be infectious, especially when the gaming experience reaches a fever pitch. Still, controlling one's emotion would be best as more wins could come via the Love Meter Scatter Symbol. A spin that returns with more than one Love Meter icon is a positive outcome because the emergence of two or more, brings additional wins of up to 100 coins. The DoctorLove game grants Scatter Pays, regardless of the spot on which the Love Meter landed, and without the need to follow a payline pattern.
Moreover, landing on three or more of the Love Meter sets off the DoctorLove Free Spin Round, for which a player receives a set of bet-free spins. Based on the number of Love Meter images that triggered the free game, a player could receive ten free spins at the least, and up to 20 free spins at the most. All winnings amassed during the cost-free spins will be added to a player's regular payline wins.
The DoctorLove Free Spin Game
The Free Spin Round is the game's main reward enhancing feature, as the Wild and Scatter win enhancements tend to pale when compared to the Free Spin bonus rewards. All regular payline wins achieved via the bonus spins are tripled, which means a 3x coin multiplier will be applied automatically during rewards calculation. The best is yet to come since the Free Spin Round can be re-triggered.
Bet-free spins that produce three or more of the Love Meter symbols extend the bonus game to up to twenty more extra spins. Having more bet-free spins could lead to more of the triple-paying goodness of the bonus game.
The Gamble Feature
Microgaming added the Gamble Feature to this DoctorLove slot game just to add more spice to one's real money gaming pleasure. A player can use his or her latest win, as wager on a mini card-color and card-suit guessing game. If one makes a correct guess, the latest winnings will be doubled or even quadrupled. An incorrect guess is not a bitter pill to take, since a player stands to lose only his or her most recent winnings.