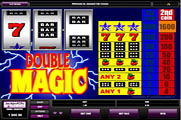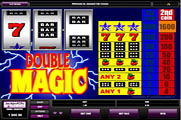 Double Magic for Double Slots for Fun
Are you ready for double the fun and the double the rewards, you better be, this is because this Microgaming slot machine, Double Magic, promises you just that. So get ready for a one of a kind slot gaming experience that brings you plenty of rewards and a simple and an entertaining game play. Double Magic is a three-reeled slot machine that has a very simple format that resembles most classic slots.

Slots For fun With Three Reels
The game's screen is divided into 4 parts. The first one is the 3 reels of the game, in which players will see one middle winning line. These reels are located on the top left area. The symbols that are going to spin across these reels and on the payline include blue electric stars, red sevens, the usual 1 bar, 2 bar and 3 bar symbols and red cherries.
The second part is the control panel, which is found at the bottom of the screen. This control panel is filled with all of the buttons that players will utilize in order to control the game, spin the reels and place the bets. There is the Max Bet button that enables players to place the biggest bet, the + and – buttons that enable players to toggle between the coin values, the Bet One button that players will click on in order to determine how many slot coins they want to use and lastly, the spin button that players will click on in order to initiate the game.
The third part is located on the right side, which is the paytable of the game. This paytable includes all of the different symbols that appear on the reels and lines of the game and their respective payouts. There are 2 columns for the payouts, one for the 1 coin bet and one for the 2 coin bet. The highest payout that players can earn through the line payouts of this slot machine is equal 1600 coins which is given to players when they get 3 blue star symbols on the payline of the game, after they place the 2 coin bet. If they get the same combo after placing 1 coin bet, they will only earn 800 coins, this is why players always place the max bet on this game so they can grab that great reward. The last and the 4th part of the game is under the reels, where players will see the name of the game with lightening surrounding it.