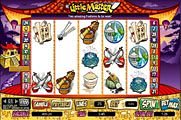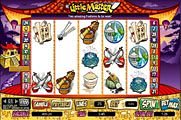 Double Panda Cryptologic Free Casino
It is apparent from the name of the game that it is themed around Pandas, to be more specific, it is themed around the giant panda, which is an endangered species.  The symbols that are featured on the slot machine's reels are inspired by the panda and other animals and the jingle environment. This is why the icons that spin include a panda, a leopard, fish, high value cards and a flower among other icons.
Apart from the icons, players can also see a couple of pandas at the two sides of the reels as they look at the symbols as they spin and accompany players throughout the game play. The main purpose of the game is to help the panda eat as much bamboo as it can while escaping the claws of the vicious predator that is always after it, the leopard. These icons will land on the game's 25 paylines and 5 reels.
[/CBC]

Free casino Game betting options
Players will place their bets and watch the symbols as they form payable combos so they can earn a payout. Starting with the bets, they are placed through the control panel of the game. This panel can be found at the bottom. Players will pick a number of lines and a value. After that, they will click on the spin button to spin the reels once. If players do not want to keep clicking on spin, they can use the auto Spin feature in which players will place a bet and choose a number of spins. Players can choose up to 99 spins as long as they have the credit to cover the needed bets.
Online players can also check the possible payouts that they can earn through the payouts table of the game. It will show them how many matching symbols they need to earn payouts. They will also be able to check the special symbols and the bonus symbols that the game has in store for them.
Speaking of the special features, there is the wild icon, which is represented by none other than the friendly panda symbol. Whenever the panda lands on any of the reels, it will quickly increase the chances of winning for players by replacing any of the other symbols. Of course, like any other wild icon, it will not replace other special icons. It is also the highest paying symbol as it can give players up to 10,000 coins. The other special icon is the bamboo sticks, the favorite food for the panda. It will reward players generously in multiplied rewards and it also has the ability to activate the free Game Feature. This can happen when players get a minimum of 3 bamboo sticks symbol anywhere on the lines and the reels of the game.