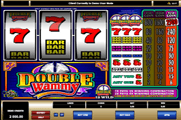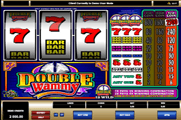 Double Wammy Free Slots Review
Double Wammy is a 3 reeled classic slot machine that is from the rich and extensive gaming selection of Microgaming. That is why players will be able to find the game at Microgaming powered online casinos such as Jackpot City, Royal Vegas and Gaming Club Casino. The game brings players double the fun and double the excitement, which is indicated by the name of the game as Double Wammy is an expression that is used to refer to things that are double the fun.
The game is presented to online players in a classic setup as it has 3 spinning reels with one payline that players can find in the middle of the reels. The reels of the game can be found on the left side of the screen and they will find the paytable of the game on the right side. This paytable will show players the different payable combination of symbols that the game has as well as their respective payout.  The paytable has 3 columns each column presents the payout for each betting level as players can place 1 coin, 2 coins or 3 coins. The logo of the game, Double Wammy logo, is the wild icon of the game that can replace any other symbols on the 3 reels of the game in order to help them in achieving a winning combo on the bet line of the game. This is why whenever players get a wild Double Wammy logo on the game, they know that they will have a better chance of creating a winning combo to get a reward. That is not all what the wild symbols can do, as they can also act as a multiplier. For example, 2 wild symbols will multiply the winnings by a 4x multiplier while 1 wild symbol will multiply it with a 2x multiplier. If players manage to get three of these Double Wammy logos on the payline of the game, they will be able to hit the jackpot of the game, which is the highest payout of the game. Players will be able to see the different payouts that they can earn through the game play at the paytable on the right side. There are three payouts for each matching symbols, one for each betting level as players can place 1 coin, 2 coins or 3 coins. Players can place their wanted wagers at the bottom of the game's screen under the 3 reels of the classic slot.