User Rating: Be the first one!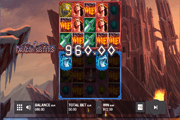 Dragon Sisters Online Slot: Earn Dual Wins from Two Sets of Reels
Dragon Sisters by Push Gaming is an online slot depicting a story about two sisters battling against each other for the right to reign supreme over a faraway realm. The battle is presented by way of a dual game play, with one set of reels dedicated to the Fire Dragon Lady (Top Reels), and the other set to the Ice Dragon Maiden (Bottom Reels). Dragon Sisters slot players benefit from both reels regardless of who wins the battle, since both sets of reels run independently but simultaneously, capable of producing separate win events with a single spin.
The confrontation between the Dragon Sisters occurs whenever their Dragon Spirit appears in their respective reel. It is actually a contest of proving one's might in influencing the outcomes of a spin, by launching a respin of the opponent's reels whilst adding a win-boosting Wild Feature. The respin may lead to a series of free-spins, alternately occurring between the Top and Bottom Reels, for as long as the set of active reels produces a new Dragon icon.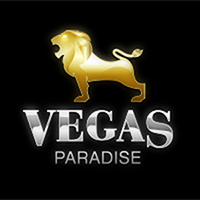 Overall Rating
PLAY NOW
Vegas Paradise
Welcome Bonus of $€£ 200 for all New Casino Players
Hottest Casino in the United Kingdom
Huge collection of online slots and table Games
Extremely High Payout Percentage
Monthly Promotions and Free Play
Dragon Sisters Online Slot: Dual Game Feature
Take notice of the Top and Bottom sets of reels. Each slot grid contains 3 rows of icons segmented into 5 reels that spin and return with different groupings of symbols. Both reels contain 25 paylInes, which denotes that a spin may produce winning combinations in any of the two sets of paylines; or even simultaneously in both Top and Bottom Reels.
Since the Fire Dragon Lady reigns over the Top Reels, the Red Dragon Symbol appears in this grid. The Bottom Reels belong to the Ice Dragon Maiden and therefore exclusive to the Blue Dragon Symbol.
Dragon Sisters Online Slot: Wild Symbol and Special Wild Features
Presented as a straightforward Wild emblem, this icon takes position in any reel or column. Winning payline arrangements that made use of a Wild as component, award pays based on the winning symbol's rewards scheme.
Yet a payline win may also consist of three, four, or five Wild Symbols; earning players an equivalent of 2x, 5x, or 15x the amount staked per spin. Those are the same set of rewards awarded by the highest paying Fire Dragon Lady and Ice Dragon Maiden, whenever 3, 4 or 5 of their image occurs as winning payline combo.
The Wild Reel Feature occurs only in the Bottom Reels and comes around every time the Red Dragon appears anywhere in the Top Reels. The Wild Reel is placed in a column directly below the reel in which the Red Dragon appeared.
Extra Wilds Feature – A Blue Dragon emerging in the Bottom Reel, shows its might by spreading up to 3 additional Wild Symbols in random positions across the Top Reels.
Dragon Sisters Online Slot: Respin Feature
At least one Red Dragon in view in any Top Reel position triggers a respin of the Bottom Reels. During the free turn, the Wild Reel placed by the Red Dragon in the Bottom Reel locks in place. If at least one Blue Dragon appears in the Bottom Reels after the respin, a new bet-free turn will occur in the Top Reels. The Extra Wilds placed by the Blue Dragon in the Top Reels will likewise lock in place.
A series of respins may occur for as long as new Dragon icons appear in the active reel set. A succession of alternating respins therefore will likely fill both reels with Locked Wild Reels or Locked Extra Wilds accordingly. The Respin Feature ends once an active reel-set does not produce a new Dragon Symbol.
Dragon Sisters : Dual Game with 2 Powerful Dragon Icons that Trigger a Respin of a Wild-Enhanced Grid
Dragon Sisters online slot carries on as a dual game play of 2 sets of 25-payline reels, in which a related Dragon Symbol dominates the opposite grid by adding Wild Symbols to the reels and at the same time triggering a respin.