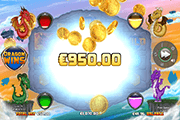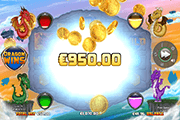 Dragon Wins Online Slot: Dragon Spins and Free-Spins Enhanced with Powerful Boosters!
Dragon Wins by NextGen Gaming offers 40 paylines in which 4 Dragon elements form winning combinations to award top pays and even free-spins. Each Dragon has a Win Meter that fills and subsequently sets off Dragon Spins at no extra cost. Even more awesome are the powerful boosters optimizing those Dragon Spins.
Dragon Wins though fill the Win Meters only during base games. Nonetheless, the Free-Spins Round runs on reels enhanced either with More Wilds or with Wild Reels. Another exceptional Dragon Wins feature is the Dragon Fire element. Any of the four Dragon animations guarding the reels may breathe fire to its Dragon Win; not to destroy symbols, but to repeat the win 3, 5, or 10 times over.


Dragon Wins Online Slot: Wild Symbol
The Wild emblem comes into view in any reel. When aligned with identical icons in the same payline, a Wild can complete a payline win; or lengthen the arrangement into a higher paying combo. The payouts on Wild-completed wins depend on the Paytable Values of the principal winning symbols.
Yet if the contents of a pay pattern consist purely of Wild Symbols positioned from the very first column, players can expect to receive greater rewards. Two, three, four or five Wilds forming a payline win, correspondingly garner coin credits of 2, 25, 100, or 500.
Dragon Wins Online Slot: Dragon Spins Feature
Pay attention to the Red, Gold, Green and Purple gemstones on display beside each Dragon animation. They serve as Win Meters that fill every time a matching Dragon icon strikes a payline win. At any time a certain Dragon Win Meter reaches its full capacity, a set three (3) bet-free Dragon Spins launches.
Each Dragon Spins set comes with a powerful win-boosting element and a special Scatter Symbol that replaces the regular Scatter icon. When three of the related Scatter occurs as outcomes, the same set of Dragon Spin re-launches.
Red Dragon Spins run on special reels in which Red Dragon icons may appear as full-reel Stacked Symbol in any column.
Gold Dragon Spins play on reels with "More Dragons." Aside from replacing all other types of Dragon elements, a Gold Dragon may also replace a low-win Gem Symbol with its likeness.
Green Dragon Spins also play on a grid in which only Green Dragons occur as Dragon elements. The Green Dragons though are more powerful as they can change Reels 2, 3, and/or 4 into Green Dragon Reels.
Purple Dragon Spins similarly give exclusivity to Purple Dragons as top paying icons. Yet each Purple Dragon that lands on a reel will expand to cover the top and bottom positions next to it.
Dragon Wins Online Slot: Free Games
This particular bonus round activates when three or more of the regular, blue-colored Scatter Symbol occurs anyplace across the grid. Such an event sets off one of two (2) types of Free Games at random; either the round with a More Wilds or Wild Reels feature.
More Wilds Bonus Round awards 10 up to 15 free-spins that run on a set of reels in which Wild emblems replace one or more randomly selected icons.
Wild Reels Bonus Round consists of 5 up to 10 free-spins also played on reels in which Wild Symbols replace icons, but on a per reel basis. One or more columns of symbols therefore have potential to change into Wild Reels.