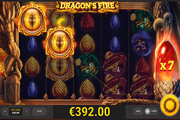 Dragon's Fire Online Slot: Powerful Dragon's Eye Multiplies the Value of Multiplier Progression
Dragon's Fire online slot by Red Tiger, summons a powerful dragon to improve outcomes of base and bonus spins. At random occasions, the dragon animation powers up a potential spin outcome with Free- Spin icons or with Stacked Wild Symbols. If the fiery action leaves reels with Free-Spins tokens, the event may lead to the activation of the Bonus Stage. On the other hand, one or more full-sets of Stacked Wilds, boost chances of hitting multiple payline wins via a single spin.
This Dragon-themed, 40-payline slot may pay more than the rewards prescribed in the paytable. A single win event draws 1x the payout value corresponding to every winning symbol. Now if the next spin produces another positive outcome, the related 1x winnings, double in value. If by chance a series of spins yield winning results uninterruptedly, every win-event will increase the pay-multiplier by 1; to which Multiplier progression may reach a value of up to 50x.
Actually, the current pay-multiplier value may still increase. This Dragon's Fire game comes with a supplementary feature, which further multiplies the current value of the Progressive Multiplier. If a chain of win-events leads to the activation of a free round, multiplier progression will carry on. That being the case, chances of hitting big bonus wins are likely, because Progression constantly transpires after each bonus spin. Regardless of the outcome of a free-spin, the pay-multiplier increases by one during free sessions.
In this game, Wild Symbols reward players when 3, 4 or 5 Wilds fill up a paying line, starting from the leftmost position. The longest winning arrangement formed by Wilds, correspondingly garners 32, 80 or 200 win-credits per payline win.
The Dragon's Eye Symbol awards similar pays on the same number of winning elements, but with a better offer. A pair of Dragon Eye icons landing on the first and second payline positions, instantly garners 4 win-credits.
Dragon's Fire Online Slot: Progressive Multiplier
The Payout Multiplier increases by one (1) if the next spins occurring thereafter, produce winning results. If a non-winning spin breaks a chain of win-events, the multiplier resets to the default 1x the payout value.
During a series of winning spins, pay attention to the Red Dragon Egg on the right side of the slot screen. It shows the current Multiplier value applicable to each winning spin.
Dragon's Eye Multiplier Boost
Rejoice, if at some point a huge Dragon's Eye image, briefly covers the screen. Once the screen returns to its normal state, the Multiplier displayed by the Red Dragon Egg will increase in value. As a chain of winning spins carry on, Multiplier Progression will likewise continue to increase the factor raised by the Dragon's Eye.
The next best thing that can happen is when a series of spin-wins advances to a round of free games. During free bouts, the Multiplier increases by 1 after every turn, regardless of spin- outcomes. Awesome even is that once the bonus round ends, the base game Multiplier Progression carries on with the latest value displayed by the Red Dragon Egg.
Random Dragon's Fire Win-Boosting Feature
On random occasions and before the reels settle with their final displays, the Dragon beside the slot screen will breath out fire; setting one or two reels ablaze. After which, the burning reels will be replaced, either with Free-Spins Symbols, or with Wild Reels.
Dragon's Fire Free-Spins Bonus Round
A scattering of at least three (3) Free-Spins tokens initialises loading of the bonus game panel. Once three (3) Dragon Head icons come into view, players have to select one, in order to determine the number of free games to activate.
If a base game advances to the bonus round with an active pay-multiplier, the Red Dragon Egg will continue to reflect the factor. This time, Multiplier Progression transpires after every bonus spin, regardless of spin results.
A round of free games may extend if a bonus spin delivers another scattering of Free-Spins icons; allowing the pay-multiplier to increase further, possibly even up to the 50x maximum. Should the Dragon's Eye appear during a free session, its repeated occurrences may boost multiplier growth by up to 10x max.
Dragon's Fire : Bonus Round Allows Multiplier Progression to Continue After Every Free-Spin
Dragon's Fire online slot features a pay-multiplier that increases by 1 on every consecutive win. Now if a base game Multiplier Progression is ongoing when a bonus round activates, the Multiplier Value achieved will continue to increase during the free bout. Greater still is that increments transpire after each bonus spin, regardless of results. Moreover, this game has a random Dragon's Eye feature that multiplies the current Multiplier Value attained.