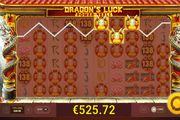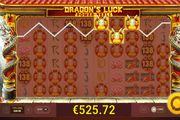 Dragon's Luck Power Reels Online Slot: All-Wins Pay Grid Allows Multiple Winning Combos in a Single Paying Line
Dragon's Luck Power Reels online slot plays on a grid in which matched icons may organise winning combos commencing from any payline position. This game has 30 paylines, with each line configured to accommodate multi-wins on different sets of 3 or more alike elements. Each group of matched elements though, must occur in consecutive positions, regardless of where their payline alignment started.
Since there are 10 reels in all, 10 positions may be allocated to as many as 3 winning combinations. Let us say 3 Lotus Symbols align consecutively in Positions 1, 2 and 3, followed by a set of Fish Symbols in Positions 4, 5, 6 and 7. It is still possible that a third set of alike images may align as winning combination in Positions 8, 9 and 10 once all reels come to a stop. In the same way, other paylines may likewise fill with multiple winning combos via a single spin.
To boost chances of achieving such feats, game developer Red Tiger added special Gold Dragon Coins that appear in stacks across the 6×10 grid. The Dragon tokens are Mystery Symbols that later reveal a single type of icon. Dragon Coins become more potent if the image lands as a huge block of icon, occupying 3 or more adjacent reels. After all, a single super size Dragon Coin, instantly delivers a minimum of 3 consecutively aligned symbols, certain to draw a corresponding payout.


However, this Dragon's Luck Power Reels slot, does not have a Bonus Stage. In order to make up for the lack, the 2 Dragons displayed on both sides of the slot screen may decide to respin all Dragon Coin Tokens currently in place. The free roll will then yield a second wave of one-a-kind images that may produce fresh sets of matched payline alignments.
Hope that Dragon Coins in view, settle on the 138 Tokens as Mystery Symbols. A set of 3 or more, or up to 10 of the 138 icons aligned as payline win, draws 30 win credits at the least, and up to 3,888 at the most. All reel elements occur as Stacked Symbols, including the special Dragon Coins.
Dragon's Luck Power Reels : Dragon Coins
Stacked Dragon Coins may come into view, partly or fully covering the visible portion of one or more reels. Dragon Coins though, provide win values only when they reveal the Mystery Symbol.
Each Dragon Coin spins in its cell, repeatedly revealing a single type of symbol. However, the set of identical images revealed when all 10 reels have returned with their final outcomes, will serve as final revelations.
Dragon Coins may also emerge as colossal symbols, occupying 3, or more adjacent reels. The huge token may land as a 3×3, 4×4, 5×5 image, or even cover the entire 6×10 grid. A Colossal Dragon token therefore, can install as many as 9, 16, 25 or up to as many as 60 identical images in adjacent payline positions.
Dragon's Luck Power Reels : Random Dragon's Help Feature
In some instances, after Dragon Coins have revealed a set of Mystery Symbols, the Dragons on both sides of the Dragon's Luck Power Reels, awaken. They will breathe fire to the reels, causing the Dragon Coins to respin and produce a fresh batch of alike elements. The event therefore gives players a free chance to earn from potential winning combinations.