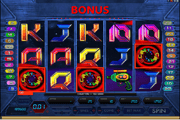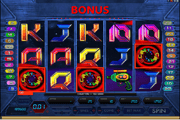 Drone Wars a Video Slot Featuring an Exciting Interactive Space Battle Bonus Game
Drone Wars is a Microgaming video slot with five (5) reels and 20 paylines filled with symbols that depict a space battle between two drone pilots. The reel spinning actions produce trigger symbols that activate a two-part bonus game in which a player will be involved in a space fight to win extra coin rewards. Expect a rewarding slot-playing experience, as the game also pays for Wild and Scatter combinations in addition to their win-boosting actions.
The Celestial Orb Wild Symbols
Aim to land on the Drone Wars Wild Symbol represented by a Celestial Orb that simulates how the stars and planets revolve around the space orbit. Watch those colorful symbols shift image, becoming Wilds that substitute for regular icons as a way of helping players create payline combinations. The Celestial Orb Wilds bring additional coin rewards, whenever two or more land on a payline. The game pays 1,000 coins if a spin produces a set of five-of-a-kind Celestial Orb Wilds in any active payline.

The Planetary Sphere Scatter Symbol
Every spinning action brings Drone Wars players into a galactic space near the planetary system. The closer one gets, the likelier the possibility of hitting three or more of the Planetary Sphere Scatter combinations that activate a Bonus Game. In addition to giving a player access to a two-part Space Battle Bonus Game, the game pays extra coin rewards for two or more Planetary Sphere Scatter Symbols that emerge, regardless of their position across the reels.
The Intergalactic Space Battle Bonus Game
In every activated Drone Wars bonus game, a bonus player makes a choice between Mission 1: Space Attack and Mission 2: Planetary Assault.
Space Attack – Enemy drones have successfully detected the presence of the Drone Wars spacecraft in their galactic territory, and are actively signaling a player's location. A bonus player has five free spins to use in destroying all enemy drone symbols appearing on the screen. Each bet-free spin will cause the destruction of all enemy drones by transforming them into Wild Symbols.
The Wild substitution occurrences could bring multiple coin rewards, but not necessarily victory in destroying all enemy drones. To find out what happens next, a player should aim to activate another set of bonus game, and choose Mission 2: Planetary Assault.
Planetary Assault – Apparently, a horde of enemy drones have arrived to launch an attack against the Drown Wars player. Although, electromagnetic shields protect the spacecraft, the multitude of enemy drones arriving will eventually succeed in destroying the shields in four (4) offensive moves. A bonus player's goal then is to destroy at least 20 enemy drones before the shield loses its protective powers, in order to win the 50x multiplier top bonus prize.