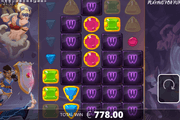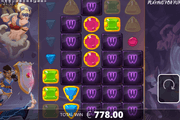 Dungeon Quest Online Slot : Pay-Both-Ways Game w/ 2 Base Game Bonus Features and Free-Spins Round
Dungeon Quest online slot by NoLimitCity draws inspiration from a game board in which the game play involves collecting precious stones. Here, players collect one-of-a-kind Power Gems and Ores by way of 29 paylines. An organisation of identical images occuring in adjacent payline positions, and commencing either from the leftmost or rightmost reel, is a winning collection.
Unlike the game board version, this Dragon Quest online slot has no dragons and monsters that hinder players from accomplishing the treasure collection mission. In contrast, NoLimitCity incorporated 3 Power Up features to the game. All of which makes landing on matched combos a lot easier. During base game spins, a Power Stone or a Gem Forge Feature transpires at random, to improve spin-outcomes with Wilds or identical Power Gems.
In free rounds, each spin produces multiple Wild Symbols that stay in place through the end of the bonus bout. The great news is that Wild Symbols of this game not only act as jokèr card. When 5 Wilds align as a matched grouping in any payline, the collection awards 100 coin wins.


Four Power Gems (Green, Yellow, Blue and Red) occur as top paying icons; awarding 5, 15 or 100 coin credits on 3, 4 or 5-of-a-kind Power Gems, occurring as winning combination. On the other hand, four unpolished Ores, transpire as low-win elements. Each Ore icon comes in a shape and color corresponding to a Power Gem,. Take note of those Ore Symbols, as they have potential to upgrade into their corresponding Power Gem image, or into Wild Symbols.
Dungeon Quest Online Slot : Gem Forge Feature
Once in awhile, and during a random paid spin, an Ore is selected for forging and casting into a finished Power Gem. Once the reels return will their array of symbols, all likenesses of the selected Ore in view, will be replaced by Power Gems of the same color.
Dungeon Quest Online Slot : Power Stone Feature
This is another random base game feature that upgrades any of four Ore Symbols. When activated, the outcome of a related spin will be modified using the randomly selected Ore icon. A Reel 2 or Reel 3 position occupied by the chosen Ore, undergoes changes. The feature transforms and expands that particular Ore icon into a powerful block of 2×2 Wild Symbols.
Dungeon Quest Online Slot : Alchemy Spins Bonus Round
A rare Amethyst Geode emerges from time to time, but only in Reels 1, 3 and/ or 5. The instance a paid spin yields an outcome displaying raw Amethyst icons in all 3 designated reels, the Alchemy Free-Spins Bonus Feature sets off.
Four (4) compelling free-spins will transpire, as each free turn will upgrade every Ore icon in a specific order: Red Ore first, Blue Ore second, followed by the Yellow Ore, and the Green Ore last.
On the first bonus spin, all Red Ore images yielded as outcomes, will be replaced by Wild Symbols. It follows that on the 2nd, 3rd and 4th Bonus Spins, Blue, Yellow and Green Ores turn into Wilds8 in the order prescribed. Awesome even, is that all resulting Wild Symbols lock in place, from the moment the upgrade transpires, until completion of the bonus round.