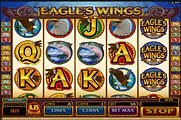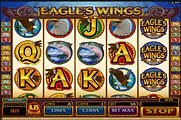 For any fan of online slots, the Eagle Wings slots game is a great example of one of the newer features available to players. This game provides an assortment of playing features, which is exactly why it is so great. Now, for those players who are looking for a more traditional method of playing slots, such as the three reel, one play line offering, this is not the game for them. However, for everyone else, this is an entertaining and fun game that provides plenty of excitement to play, not to mention a wide range of color design and sound effects that help make the game that much more desirable.
As one of the better free spin games available online, this game is in the form of a classic slot, where the different reels spin with an assortment of play lines, it is larger than the more limited options. It is a five reel, 25 pay line game that is also considered a penny slot game. This is because you are able to make a bet of as low as one penny per play line while you can increase the bet up to a quarter or pay line. This means even if you were to bet on every single pay line and all the variable, the most you can bet per round is $31.25. This is rather low, so if you do not want to worry about betting too much money while playing a game, the Eagle Wings Online Video Slots option really is a great way to go with the free slots games.
Now, there are different bonus features and free spins offered on the game. First, you should know that the max payout, if you were to bet the max amount on a line (a quarter), is $93,750. For only betting a quarter, you are going to be hard pressed to find a game that has a better payout than this. Now, it is possible to win up to 60 free spins, which in turn is going to give you a 3x multiple. If you are in the free spin mode, you are going to drastically increase your winnings. In order to enter the bonus spins round, you need to land at least three scatter icons across the five reels. Now, the game decides at random how many spins you are going to receive. Generally, this ranges from around 15 to 20, although it can reach 60. Usually though, the more scatter icons you have appear on the board at once, the better our chances are of receiving this higher bonus option.
There is a wild icon as well, which is the "Wild Eagle" image. You can use this icon to replace any other icon on the board, except the scatter icon. Either way, this is really a great way to have a fun game and, best of all, you do not need to spend much money at all in order to take in this slot offering.